Rent Demand Letters
Rent Demand Letter
May I remind you that rent for the premises occupied by you at the above address has been due from you for the last three months.
I shall be grateful if you send payment in respect of the same before the end of the current month.
Thanking you.
Positive Reply
Thank you for your reminder, I regret to say that payment of your rent was delayed because of unavoidable circumstances.
Please find enclosed a cheque for $1000/-. This makes the payment of rent up to date.
Negative Reply -1
My current financial commitments do not permit me to make full payment of the rent to you this month, but I will certainly try to clear the dues before the end of the next month.
I hope you would not mind the trouble.
Thanking you.
Negative Reply -2
I am sorry to have troubled you, but it was on purpose that I withheld the payment of your rent, as I have repeatedly drawn your attention repairs to my flat have long fallen overdue. As you have not fulfilled your promise of effecting the repairs, I am myself planning to do the same and deduct the cost from the rent payable.
Hope you would appreciate my difficulties and approve of this arrangement.
Thanking you.
Reply [with] partial payment proposal
I am in receipt of your reminder. But I regret my inability to pay three month's rent this very month. I, however, promise to pay you for two months now and for two months in May making the payment up to date. I hope you will approve of the arrangement.
Thanking you.
Demand for Rent with legal action threat
I must call your attention to the fact that rent due for the last four months for the premises occupied by you had not been cleared despite many promises made by you.
I request you once again to clear the same at your earliest, not in any case later than the last day of the current month, otherwise, I shall be compelled to take such steps as may not be to your kind.
Reply
I regret to inform you that the tone of your letter has more than distressed me.
As you know I am one of your oldest tenants and have by now paid you enough money by way of rent to cover the entire cost of building a flat like the one now occupied by me.
Besides, I am expanding some unexpected financial difficulties nowadays, but rest assured your rent will be paid, come what may next month.
I hope you will exercise patience for some time more.
Thanking you.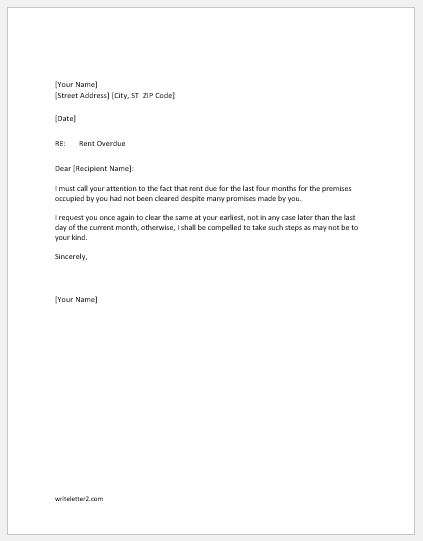 Rent Demand Letter

Size: 39 KB Word .doc File 2003 & later
Download