Rent Reduction Request Letters
Rent reduction request
Considering the general standard of rents prevailing in the locality and the condition of your building and its better upkeep by us, I feel rent charged by you is excessive and not justified normally or otherwise.
Therefore, instead of going to Court under the Rent Act and bringing in the Rent Controller to do the job, may I request you to reduce the rent yourself bearing in mind the good relations we have been having ever since the start of my tenancy in your premises.
Anticipating a reasonable reply from you.
Positive Reply
I have a great regard for you as a good tenant. Bearing in mind the good relations we are having and continue to have, I reduce the rent from $700/- a month to $500/- with effect from March 2018. But the fact of this reduction must be kept private so as not disturb other tenants.
I hope you will appreciate my offer.
Negative Reply -1
I am in receipt of your threatening letter. I am already charging you much less rent that even the Municipal Corporation charges me by way of House Tax for the premises occupied by you.
Therefore, I do not think that I can be persuaded to reduce the rent.
But if you want to seek reduction through the Rent Control Act, I will not stand in your way.
Yours faithfully.
Negative Reply -2
I am surprised to note that you are persistently asking for a reduction in rent as also for renovations and repairs. I regret to say that neither of the tow demands is possible of fulfillment soon.
Your rent was fixed when houses were many and tenants few. Since then you know everything has gone up wages, prices, or expenses on building material etc. but I am charging you the same rent as you paid ten years back.
Therefore, I request you to undertake all the repairs yourself. Also, think in terms of increasing the rent in accordance with the rise in the cost of building material.
Yours faithfully.
Reply to above
I will not ask you again to reduce rent, although you charged me a high rent at the very start of my tenancy. At that time, I did not mind it because of my flourishing business which has since met with an adverse fate.
Yet I must insist on urgent repairs, I withhold payment of rent till you have made the building worthy of human habitation and commensurate with the rent you are charging.
Yours faithfully.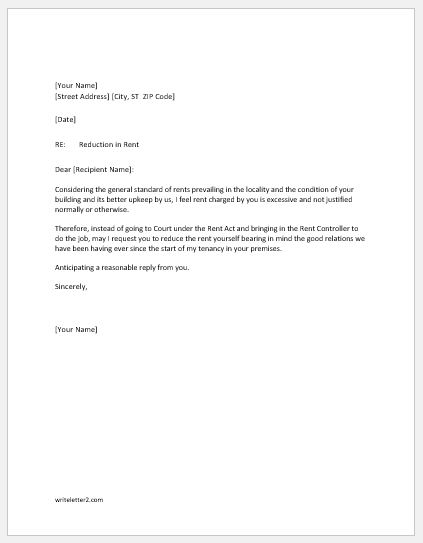 Rent Reduction Request Letter

Size: 39 KB Word .doc File 2003 & later
Download