Rental Verification Request Letter [by tenant]
Safety and security are paramount in every walk of life nowadays. But it is the backbone of property leasing commerce. Safety of the tenant's money and security of the landlord's property is not possible without verification and history of their dealings at the both ends. Only that person can certify the behavior of tenant or character of the landlord who knows them very well for past few years. Sometimes company also demands the verification of tenancy for hiring or for record keeping purpose. Especially applicants of government job are must to verify their present address through near police station, security agency or from the landlord himself. These verifications are legitimated to reach the exact address in case of emergency, for necessary correspondence and to give hiring to its employee. Therefore, the easiest way for the tenant to verify his present address or rental contract is the rental verification letter by the landlord. Because the landlord is the person with whom tenant is dealing with, he knows all terms and conditions of the contract and he is the person who can verify his character also.
Rental Verification Request Letter [by tenant]
Charter Communications Inc.
Augustin Wheelock
45 St. Bird Avenue, Oklahoma.
3rd January 2017
Mr. David Keith
CEO
Citigroup Proprietors.
30 St. Pearl Avenue, Oklahoma.
Dear [Recipients Name],
Hope you are enjoying your life. As you know that I am serving in private sector for last few years without any promotion in pay and designation. Therefore, I have decided to apply for the government job to secure my future and to prosper in life. In this job, the applicants need rental verification and confirmation of their present address. This shifting of the job will not have any effect on our leasing contract or payment schedules. But a brief rental verification letter from your side will be helpful for me to get this job. Therefore, I request you to write a rental verification letter for me. I will be grateful to you as you remained always very kind to me on all matters.
Looking forward to your kind concerns.
Sincerely,
Augustin Wheelock
Supply Manager, Charter Communications Inc.
Download Details: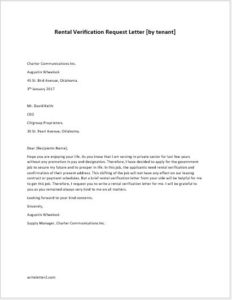 Rental Verification Request Letter [by tenant]
Size: 31 KB Word .doc File 2003 & later
Download
Mobile Version: Polaris Office & Google Docs
Size: 23 KB File
Download
[personal use only: Not for Resale & Distribution]