Request for Rental Apartment Repairs
Request for Repairs
I have been the occupant of your building for the last fifteen years, and as you know the building by now requires large-scale repairs if it is to be kept serviceable. And not demolished by the Metropolitan Squad as a dangerous structure during the ensuing monsoon. As the rains are due in a month's time, please get the repairs done without losing any time.
Reply
You will realize that it is not possible to undertake large-scale repairs because of the expenditure involved, but we shall undertake such repairs as may be necessary to save the building from a possible collapse during the ensuing rains.
Necessary repairs will begin immediately.
Refuse to make repairs
I regret to inform you that it is quite impossible to think of any repairs to the premises occupied by you soon.
During the last two years, the major part of the rent has been eaten up by repairs and renovations of one kind or the other so much so that the property has been a great drain on my sources of revenue and income.
While I do not wish to be unreasonable, I am forced to refuse your request.
Reply to above
Some repairs and whitewashing to the building are so urgently needed that these cannot wait till you have earned enough money by way of rent to be spent on repairs.
Kindly give the matter hard thinking. Do not kill the hen that lays golden eggs for you.
Yours faithfully.
Recurring Repairs
I have been the occupant of your house at No. 234, Edinburg, George Town, for the last three years. But I regret to say that the house has never been whitewashed. Kindly get it whitewashed and get small repairs effected otherwise allow me to get the same done myself and deduct the amount of rent for the next month.
Positive Reply
With reference to your yesterday's letter, you may get the building whitewashed and have small repairs effected. Please make sure that the cost of repairs remains within reasonable limits and the money spent by you can be adjusted against one month's rent only.
I hardly need to add that the cost involved more than this estimate will not be payable by me.
Strong request letter for repairs
I am pained to write that while you are very punctual in getting your rent, you are quite forgetful of taking it as your duty to ensure convenience to your tenants. I have warned you many a time that the taps are leaking and the roof needs repairs as dust falls from it, but you have never chosen to take my complaint seriously.
If you are not able to take any steps to make the building habitable, then please allow me to get it repaired out of the rent payable to you. May I add that failing to receive any satisfactory reply from you I will stop paying you rent until the matter is decided by the Court.
Don't you think I bear any ill-will against you? The repairs are essential for the maintenance of your property as well as saving us from undue sufferance.
Reply
I acknowledge the receipt of your letter dated July 13. In reply please allow me to say that your threat of legal and extra-legal action is not going to ensure me. I am as much concerned about the safety of my property as you are. All that is possible will be done before the next rains.
Please pay rent for the last two months which you are unnecessarily withholding, otherwise, I shall be forwarding to take legal action for the same.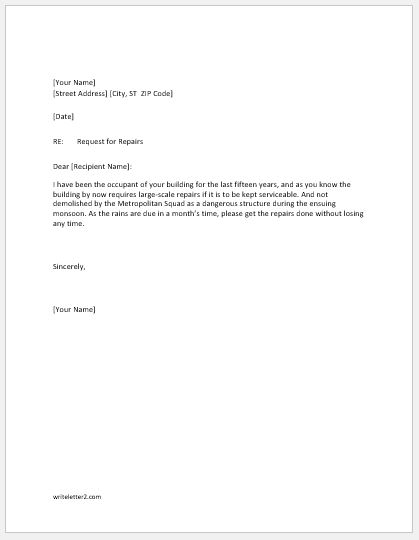 Request Letter for Rental Apartment Repairs

Size: 31.2 KB Word .doc File 2003 & later
Download