Request Letter for a Rush Order
Rush order is basically a request to the seller to supply goods with the condition that they will be supplied promptly. Sometimes, companies or individual buyers urgently require a product that is either not available in the market, their other contract is canceled or a sudden arrangement of events is made for which the product is required. In all such cases, rush orders are made. The seller, in this case, is requested to deliver the product at his earliest since unlike a usual order, this is a rush order. There is no specification for the rush order dues, however, mostly, the charges for rush orders are a little more than the usual orders. This is primarily because the sellers or the vendors are asked for quick services for which they have to work relatively more and relatively prompt by prioritizing the rush order over other orders.
Request Letter for a Rush Order
[Your Name]
[Address]
[Letter Date]
[Recipient's Name]
[Address]
[Subject: Subject of Letter] -Optional-
Dear [Recipient's name]
We have scheduled an urgent meeting of tycoons of our community tomorrow, 10 am at our office. After the meeting, a luncheon is also planned. Since for all our events, you provide the refreshment, we have contacted you for tomorrow's lunch arrangements. This letter is to request a rush order of refreshment items that we need to be provided before 12 pm tomorrow. The menu will include the exclusive refreshment items that we ordered for the last event. You are requested to make in time delivery. All charges will be paid by the evening tomorrow. Thank you!
Sincerely,
[Your Name]
[Your Title] -Optional-
Download Details: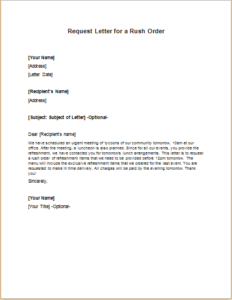 Request Letter for a Rush Order
Size: 30 KB Word .doc File 2003 & later
Download
Size: 159 KB PDF File
Download
[personal use only: Not for Resale & Distribution]