Request Letter to Change Shift Schedule
In many businesses, employees work in different shifts. There are some who are hired for the day shift while others for the night or evening shift. This is particularly for such businesses and services that must continue working 24/7 or at least more than the 9 to 5 schedule. Due to some problems, employees may find it difficult to continue with the shift that they are working on. A request for the change in the shift can be made. By this, a worker can continue working at the same place without having bothered himself much. Below is a sample letter that can be written to request a change in the shift schedule.
LETTER
Dear [Recipient's name]
I am writing to you to request a shift schedule. As you know I am working at your bakery as a salesman for the last two years. Since the time I joined, I have been working on the day shift. Many other salesmen kept shifting their shifts but I remained stuck with my day shift as it was compatible with me. However, as you already know that I have resumed my studies which I had left after high school. To take regular university classes, I shall have to attend university from 9:00 AM – 2:00 PM and therefore, shall not be able to work in the day. Because I have to work to make both ends meet I cannot leave the job. The solution that I can see at the moment is to change the shift from day to evening. I shall be grateful to you if you change my shift so that I may be able to continue my studies as well as my job. Hope you will consider my request.
Sincerely,
[Your Name]
[Your Title] -Optional-
Download Details: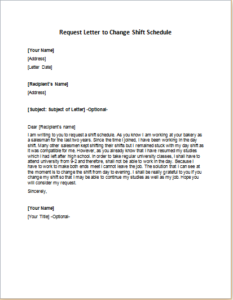 Request Letter to Change Shift Schedule
Size: 27 KB Word .doc File 2003 & later
Download
Size: 244 KB PDF File
Download
[personal use only: Not for Resale & Distribution]