Request Letter to Correct an Error in a Cheque
While thousands of cheques are issued to the companies by other companies, to people by other people on daily basis, the error and mistakes are not uncertain to occur. The cheques should be issued with great care since sometimes a small mistake can cost you heavily.
The most common errors while signing cheques is the incorrect mention of the amount or the date or the cheque issuer may sometimes forget to sign the cheque in a hurry. Since banks do not consider such faulty cheques, they should be returned to the issuer to request a fresh cheque. This letter can be used to request correction of an error in a cheque.
Request Letter to Correct an Error in a Cheque
[Your Name]
[Subject: Subject of Letter] -Optional-
Dear [Recipient's name]
After the completion of the project which was about the reconstruction of your hotel kitchens, we were waiting for the payment. We were told that the payment will be made by cheque and not through the online transaction method. Today, we received the pay cheque. Thank you for the cheque but I'm sorry, I'll have to bother you again. The date mentioned on the cheque is wrong. You've mistakenly put 2006 instead of 2016. Because of this error, we certainly will not be allowed to cash this cheque. Kindly fix this error by either changing the date or issuing another cheque so that we may withdraw our pending payments. Thank you!
Sincerely,
[Your Name]
[Your Title] -Optional-
Download Details: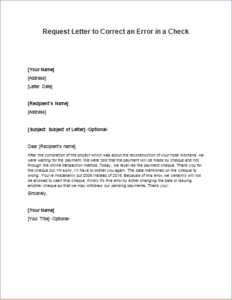 Request Letter to Correct an Error in a Cheque

Size: 26 KB Word .doc File 2003 & later
Download
Size: 255 KB PDF File
Download
[personal use only: Not for Resale & Distribution]