Request Letter to Distributor to Expand Coverage
The more understanding there is between the seller company and the distributor, the more easily and speedily the business flourishes. The strong bond among the employees, employer and other service providers of a business make it possible for them to better understand each other's needs and act accordingly. For example; a business may want its distributor to make distributions in a certain way, to make sales in a particular area or to expand its services to a wider public etc. For such matters, a letter can be sent to the distributor to inform him about the strategies of the seller. The mutual consensus of the seller and the distributor is required.
Request Letter to Distributor to Expand Coverage
[Your Name]
[Address]
[Letter Date]
[Recipient's Name]
[Address]
[Subject: Subject of Letter] -Optional-
Dear [Recipient's name]
We are pleased with your services as our distributor. The effort and energies that you are putting into your work are highly admirable. Thumbs up for your professional work as well as committed promises in all dealings that we ever made! Dear Mr. [distributor's name] since you are making sales within the town, we want you to expand your services to the nearby towns as well. This will allow us to bring our product into the reach of more people and will eventually benefit you as well. If you find this suitable, inform us so that we may increase our production accordingly. Also, you're requested to meet me at my office so that we may discuss this matter in detail. Thank you again!
Sincerely,
[Your Name]
[Your Title] -Optional-
Download Details: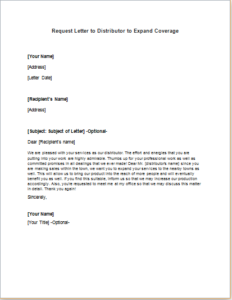 Request Letter to Distributor to Expand Coverage
Size: 30 KB Word .doc File 2003 & later
Download
Size: 162 KB PDF File
Download
[personal use only: Not for Resale & Distribution]