Request Letter to Provide more Details about a Product
When a new product is launched, companies introduce their product to their potential buyers. It is either done by organizing a product launch event or by introducing the product individually to the potential buyers. In order to convince the buyers, it is important that they are provided with the details of a product. Sometimes, the details provided by the vendor are not enough and hence the product advertisement letters or events are followed up with letters by the potential buyers to request more details from the vendor regarding the product. This is done primarily because, in the case of bulk purchases or big dealing, the buyer needs to make him fully satisfied about the product. On the other hand, it is upon the vendors/sellers to make the best advertisement of their products and satisfy their potential buyer's doubts since this is the very key point to make good sales.
Request Letter to Provide more Details about a Product
[Your Name]
[Address]
[Letter Date]
[Recipient's Name]
[Address]
[Subject: Subject of Letter] -Optional-
Dear [Recipient's name]
Thank you for introducing your latest product to us. I received your presentation by email in which you have successfully introduced your product in detail. This seems, as usual, a versatile and unique idea by you and hopefully, this product will make extraordinary business. Our company is interested in buying your product but before we initiate any deal, I want you to provide us with some more details of the product. If you share the manufacturing process, its warranty and the details of discount granted on bulk purchase, we are most interested in buying it. I am waiting for your response. Thank you!
Sincerely,
[Your Name]
[Your Title] -Optional-
Download Details: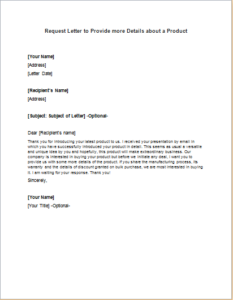 Request Letter to Provide more Details about a Product

Size: 30 KB Word .doc File 2003 & later
Download
Size: 160 KB PDF File
Download
[personal use only: Not for Resale & Distribution]