Sorry Letter to Teacher for not being Serious in Studies
Students in educational institutes are always meant to be naughty and they make such mistakes which they have to apologize for. Crafting an apology letter to the principal is very important since it is the only way by which you easily apologize. A teacher puts his own efforts in making a student bright and sharp in the studies. When you have not performed well in the exam, your teacher must be angry with you. Start the letter with greeting sentences.
The length of the letter should not be too much. Try to use the warm words while greeting your teacher. You can then apologize to your teacher for not being serious in studies. While apologizing, then you can tell the teacher that you are going to make yourself better in coming days. You can tell in the letter how much hard work you are going to do just to clear your concepts in order to get good grades in the exam. The letter should be written in a natural way and it should use a simple and easy to use language.
Be very careful in choosing the words to be written in the letter since you are writing this letter to your teacher. At the end of the letter, thank your teacher for being so nice and kind to you and also write that you expect forgiveness from your teacher. End the letter with a positive message and check the letter for any grammatical or spelling error in the letter.
LETTER
Dear [Recipient's Name],
I would like to apologize for my bad behavior in the subject of maths. You have always been a very kind and generous teacher. You were always there for me to help me in my studies but still, I did not do well in the exam because of not taking my studies seriously. My grades are very low and I am really feeling very bad for not showing good result. I promise you that I will be studying seriously for the rest of this year. I hope you will forgive me.
[Your Name]
[Senders Title] -Optional-
Download Details: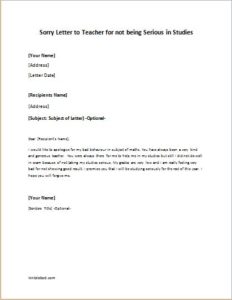 Sorry Letter to Teacher for not being Serious in Studies

Size: 33 KB Word .doc File 2003 & later
Download
Size: 309 KB PDF File
Download
[personal use only: Not for Resale & Distribution]