Student's Safety Complaint Letter
Whether in schools, colleges or hostels, student's security is a must. Parents send their children to schools/hostels with this trust that the relevant authorities hold the responsibility for their safety as long as they are under their supervision. Wherever there is management there are possibilities of mismanagement too. In schools and hostels etc., sometimes there are factors that appear to be a threat to the security of students. In such a case a complaint letter can be written to the authorities in order to take prompt action. A sample letter to write a complaint letter for student's safety is given below.
Student's Safety Complaint Letter
[Your Name]
[Address]
[Letter Date]
[Recipients Name]
[Address]
[Subject: Subject of Letter] -Optional-
Dear [Recipient's Name],
I am writing this letter to you regarding your student's safety. I have observed multiple times that your students come out of the school during break hours and roam around. The main road is though away from here and there is no traffic in the area usually, however, I still find it unsafe for the students because some drivers pass from here driving super-fast. I suggest that you restrict their going out during the break hours and reduce the risk of security that is clear in this case. I found it my responsibility to inform you about it. Now you are responsible for the security of your students. I am sure you will consider this complaint and will take prompt action.
Sincerely,
[Your Name]
[Senders Title] -Optional-
Download Details: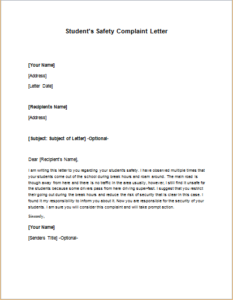 Student's Safety Complaint Letter
Size: 29 KB Word .doc File 2003 & later
Download
Size: 169 KB PDF File
Download
[personal use only: Not for Resale & Distribution]