Thank You Letter after Interview for Teaching Position
This is a thank you letter written after your interview for a teaching position at a school [college/university]. Such kinds of letters are written in order to show your gratitude for the chance of getting the interview. The letter must begin with a thank you note. Moreover, it also contains the details about your abilities and the skills that make you eligible for the job. The letter body is given below.
Thank You Letter after Interview for Teaching Position
Greetings. I would like to thank you for giving me an opportunity to interview for the teaching position at your prestigious school [institute name/place etc.]. It was a great experience to have met you in person and to learn more about your school. I would like to offer my services in the best possible ways to increase the stability and prosperity of your institutions. I have a different way of dealing with students which are both professional and effective.
I would also like to show my interest in the extra-curricular activities since I was dealing with the drama club theater at my previous school.
I once again would like to show my gratitude for taking the time out of your busy schedule to interview me today. I must say after this interview I am even more enthusiastic about teaching at your institution. You can contact me at the following numbers in case if you need more information. I will be looking forward to speaking with you soon.
Thank you very much.
Thanks for opportunity to interview for job
Thank you for the opportunity to interview for the position of financial analyst.
I was very impressed with what I learned about [Company Name] and about the current job opening. I am convinced that I could more than meet your expectations.
Please let me know if there is anything else you need to help you decide. I would be happy to return for a second interview if that would be helpful.
Download Details: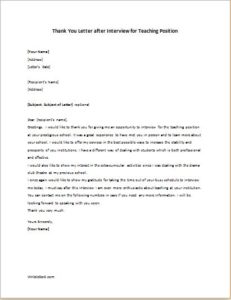 Thank You Letter after Interview for Teaching Position

Size: 30 KB Word .doc File 2003 & later
Download
Size: 128 KB PDF File
Download
[personal use only: Not for Resale & Distribution]