Thank You Letter for a Recognition
Being thankful or grateful is a nice signal. Our first and foremost duty is to thank God. We should thank God for all the blessings we have in life. When bad times come, God saves us from the worst that can happen. When we have the habit of thanking God, only then we will be thanking his creatures if they do something good for us. It gives appreciation and hope of doing more good.
Thank you is just a reward without payment which builds new relations and makes old relations stronger. In the world of the profession, formal thank you letters and notes are written. A thank you letter for recognition is written for any specific act that is admired or recognized. In this letter, language needs to be bit exclusive. Thank you letter to employees bring more motivation and boosts the morale. Such letters create a positive attitude in employees and create a workplace to do more. Hence, it brings profitability and way out to achieve the desired results in less span of time.
Thank You Letter for a Recognition
Lucas Alexander
10 St. Horse Court Avenue, San Francisco.
15th April 2017
Mr. Daniel Hayden
CEO
Zoe Industries
43 St, Sunrise Avenue, San Francisco.
Dear [Recipients Name],
I am here by writing to express my sincere thank you for recognition of my work. I have no words to express my deepest gratitude after receiving the best employee of the year award. It means a lot to me. This year's sales target was impossible to achieve. Due to the new plant installation damage, it was the toughest year for our company. But, I made my mind to give the best. And, with the blessing of God, we reached the sales target of this year. I am much blessed to have a very supportive family who gave me courage in those hard times. They gave me much courage to give the best. I have learned a lot from this year's experience on how to cope in difficult times. I thank you again for the lovely award ceremony along with the working lunch. It was the best day of my life.
Sincerely,
Lucas Alexander
Sales and Marketing Manager, Zoe Industries.
Download Details: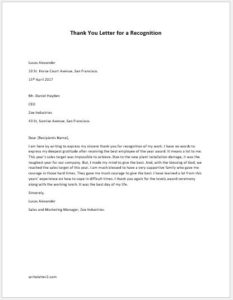 Thank You Letter for a Recognition

Size: 31 KB Word .doc File 2003 & later
Download
Mobile Version: Polaris Office & Google Docs
Size: 23 KB File
Download
[personal use only: Not for Resale & Distribution]