Thank You Letter for Attending an Event
Events hold an important place in our society. Nowadays trend of attending events is having a remarkable response as too much workload and busy schedule demands some recreations and refreshments. They make our brand friendlier. In this vast world face to face, interaction is still acknowledged as it builds a stronger bond and good relationship among people in all aspects of a society. An event is most appreciated if its creative and attractive rather than just focusing on selling the brand. People are more committed to participating and appreciate events. For greater responses, we need strong strategies. Apart from all this, they need to have a good theme as well as purpose. It helps in developing good relations and friendship among people an event manager should have influencing and motivating qualities. Sometimes events are a great source of career opportunities for youngsters. And some events are a good source of eliminating gaps of all kinds. As a result, we get a lot of inspirations sometimes as well as an urge of having more and more variety.
Thank You Letter for Attending an Event
The Idyllic Books Centre
Karen Wordsworth
Block 9E, Highland Avenue, San Francisco
14th November 2016.
Mr. John Smith
Dear [Recipient's Name],
Hope you are doing well. A bundle of thank for joining us at the grand opening of our bookstore. I would like to appreciate your presence in our event. I hope you found it entertaining and informative. The turnover we got from this event was remarkable. In this global world, books are having least importance but still our purpose is to evaluate their importance as reading books is still a great source of improving speech, communication and writing skills. Apart from this, we have introduced the kid's books full of colors and pictures to gain their importance among the upcoming generation. We would like to keep on arranging such events in future for further good will and developing a bond between readers and books.
Thank you for giving your precious time and dedication to our little effort.
Sincerely,
Karen Wordsworth
Managing Director, The Idyllic Books Centre
Download Details: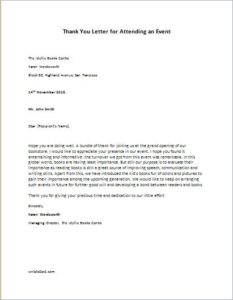 Thank You Letter for Attending an Event

Size: 33 KB Word .doc File 2003 & later
Download
Size: 313 KB PDF File
Download
[personal use only: Not for Resale & Distribution]