Thank You Letter to a Pastor for Talking to a Son
The character of a man is defined by his brought up and its environment. However, the man needs guidance throughout his life regardless of his age. First guidance institute for a man is his parents, thereafter, his teachers when he reaches to the school and then priest. We all make mistake but learning lesson from these mistakes is necessary and if we deliberately ignore our mistakes then we are living misleading life. But there are some cases in which we even do not know our mistakes and we violate the rights of other humans. Because ignorance of one's mistakes has no excuse, therefore, proper guidance can bring positive development in us. It is also our ethical responsibility to share our great feelings for them who reformed us or any of our family members and made our life peaceful. This will also increase the morale of the guide and spirit to put more dedicated efforts to reform others as well. Our feedback will also help them to improve the path of guidance. Therefore, writing a letter to a teacher or priest who has guided you is the best option to gratitude them.
Thank You Letter to a Pastor for Talking to a Son
Austen Conner
56 St. Sunset Avenues, Florida.
18th January 2017
Mr. Stark Neilson
Awaken Church
Pastor
25 St. Hill View Avenue, Florida.
Dear [Recipients Name],
Hope you are fine and enjoying your health. I am writing a letter to gratitude you for guiding my son. I was trying to arrange a meeting of my son with you since long but due to your busy routine, it was delayed. However, it was so effective that I can see a positive change in my son even after a week. He was so weak in ethics and courtesy. I tried to guide him several times but results were inconclusive. Therefore, one of my best friends suggested me to talk to you for his guidance and it remained so successful idea that results are visible even in a single week. I am grateful to you again for your precious time for my son.
Hope you will keep guiding us in future also.
Sincerely,
Austen Conner
Download Details: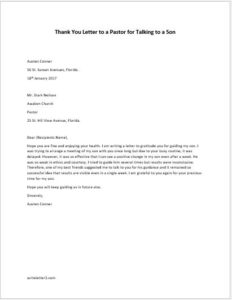 Thank You Letter to a Pastor for Talking to a Son

Size: 29 KB Word .doc File 2003 & later
Download
Size: – KB PDF File
Not Available
[personal use only: Not for Resale & Distribution]