Thank you letter to a Recruiter
It is always good to be courteous and acknowledge people for their actions and favors. A thank you letter is one way to extend your gratitude to someone for a deed that they have done. When a recruiter hires you for a job it is a good gesture that you thank them and thank them properly and in a formal manner. It not only shows that you are thankful but it also emphasizes on the fact that how important this job is for you and what it means to you. It is a good way to communicate your intentions of working hard and diligently for the company and add value to it. It will be for the record for both the employer and the employee that the deal or contract made between them both is valued and cherished. So it is very important to drop in a little thank you letter and seal the deal professionally.
Thank you letter to a Recruiter
Andrea Page
Block 4, Clinton Avenue, Albany, New York
6th October 2016.
Mr. Robert Halls
Sky High Constructions Ltd.
13 St. Clifton Boulevard, New York.
Dear Sir [Recipients Name],
I am writing this letter to express my heartfelt gratitude towards you and your esteemed company for hiring me for the post of (Mention your designation here). I am overjoyed and excited to take up this job, as I was looking for a challenging and a learning environment to work in. I assure you that I will give my best possible input to the task assigned. I fully understand the values of commitment, honesty, competence and hard work that will be required to take on the challenges of this job. There is a lot of potential for growth and learning which is why I am so excited to be a part of this project. Under you able guidance I am sure that I will be able to do my job impeccably. I once again thank you for trusting and choosing me to be a part of your team and your company.
I hope that this arrangement will be delightful and an honorable experience for both of us. Thank you!
Sincerely,
Andrea Page
Download Details: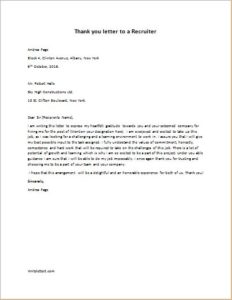 Thank You Letter to a Recruiter
Size: 33 KB Word .doc File 2003 & later
Download
Size: 321 KB PDF File
Download
[personal use only: Not for Resale & Distribution]