Thank You Letter to Cooperating Teacher
Writing a letter to say thank to the teacher can be the best way to show the feelings of thankfulness. A greeting card can also be given to the teacher when you meet them in parents teacher meeting, however, writing the thank you letter is the best option. Writing a thank you letter to cooperating teacher encourages the teacher a lot and makes him/her work even harder to give the education to your child which he should get. The tone of the letter should be formal and polite. Show your confidence in the teacher that he/she will cooperate with you in solving all the problems of the child in future also. The letter should be written in a polite way and it should not contain so many flattering words. Add an appropriate subject to the letter to increase its readability. You can write some warm words thanking the teacher. You can also add the incidences where the teacher helped you a lot, however; you can also exclude such details if you don't want the letter to be too long. Keep the letter simple with simple wording and simple message.
You should be able to communicate with the teacher with the words you choose to write in the letter. End the letter with lots of prayers and well wishes. Check the letter for all the grammatical and spellings issues. The letter should include various warm words which should reflect your affection and gratitude towards the teacher. At the end of the letter, thank your teacher for being so cooperative and helpful.
Thank you Letter to Cooperating Teacher
Lilly Ferguson
23-A North Avenue
September 23, 2017
Rose Fleming
St. Peter High School
Isenberg, Auckland
[Subject: Subject of Letter] -Optional-
Dear MS. Rose Fleming
Dear MS. Rose Fleming, thank you for being an excellent cooperative teacher of my child. Teachers like you are rare to find. You have always helped my child whenever she needed you. We really appreciate your time and patience which you show while teaching. Have a great day.
Lilly Ferguson
[Senders Title] -Optional-
Download Details: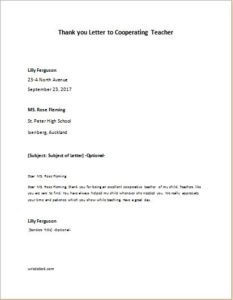 Thank You Letter to Cooperating Teacher

Size: 33 KB Word .doc File 2003 & later
Download
Size: 313 KB PDF File
Download
[personal use only: Not for Resale & Distribution]