Thank You Letter to Vendor
A vendor is a person or company that offers things or services for sale. Of course if they sale, it means you shall have to pay them to buy their service or product. In other words, it's a give and takes. But this gives and takes are communication as well as a relation which can be made beautiful by the addition of simple gestures. A thank you letter to your vendor can enlarge his heart out of happiness for being appreciated, recognized and thanked. This should especially be done with vendors who run small businesses because mostly they are just paid, never thanked, which it a pity of course. When you thank a vendor, he gets encouraged and thus tries to make his services even better.
Thank You Letter to Vendor
[Your Name]
[Address]
[Letter Date]
[Recipient's Name]
[Address]
[Subject: Subject of Letter] -Optional-
Dear [Recipient's name]
From your store, Red Shines, I had bought a stock of red shoes and red artificial wings which I needed for the costumes for my students at an upcoming event in our school. I am writing to you to thank you for the discount on sales and the way you cooperated with me. I have never seen as a kind vendor as you are. You are not only a good vendor but also a good human being. I cannot appreciate and thank you enough. I will keep coming to your store whenever I need something. Thank you very much!
Sincerely,
[Your Name]
[Your Title] -Optional-
Download Details: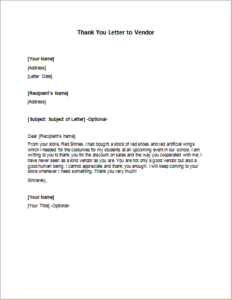 Thank You Letter to Vendor
Size: 25 KB Word .doc File 2003 & later
Download
Size: 237 KB PDF File
Download
[personal use only: Not for Resale & Distribution]