Training Application Response Letter
Keeping one's self up to date and polishing your skills with the latest information and techniques is paramount in today's dynamic environment. Almost all professionals go through some or the other form of training. This training is generally known or referred as courses or programs. These can either be simple refresher courses or to learn a new concept or skill. People who conduct training need to very vigilant about what they want to conduct, who is the target audience and what outcome do they expect from the people who have participated in the training session. Normally whenever training is conducted a certain criterion of entering the training is given by the organizers of the training. Usually, it can be a qualification requirement or a certain age group consideration. Whatever the requirement may be the organizers must respond to the applicants promptly about whether they can are eligible for the training or not.
Training Application Response Letter
Alex Reeves
Best trainers Ltd.
Block 3D, Babylon Street, Alban, Minnesota
6th October 2016.
Ms. Julie Andrews
High Tech Info Ltd.
42 St. Clinton Avenue, Minnesota
Dear [Recipients name],
I would like to inform you with great pleasure that you are eligible to be a part of our advanced accounting training program. You are qualified with the basic knowledge of accounting to be a part of this training. The training is scheduled to start next week. It is three-week long training and after a small interview, you will be given a certificate bearing your name and the completion of your training. This training is targeted to enhance and sharpen your skills and knowledge to help you achieve your higher career goals. This training will also provide you with an opportunity to interact with other people in your field. We have a number of people joining us from different companies and firms. This will enable you to not only learn but also to network with who is who of the accounting world.
I hope this learning collaboration will be a memorable experience for you.
Sincerely,
Alex Reeves
Coordinator, Best Trainers Ltd.
Download Details: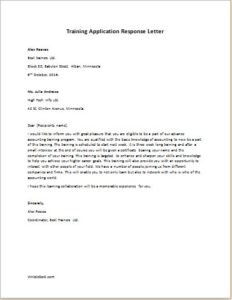 Training Application Response Letter

Size: 21 KB Word .doc File 2003 & later
Download
Size: 320 KB PDF File
Download
[personal use only: Not for Resale & Distribution]