Upcoming Event Discussion Invitation Letter
There are many events which are set up by a company. To make the event successful, the company invites several people particularly staff members of the company to come and discuss many matters with each other. The discussion before an event opens the mind and the events become manageable. The invitation letters are written to invite all those people to whom the letter is sent. The invitation letters are also written in a formal tone and are kept to the point.
The motive of every person who is being invited for the discussion is to make the event successful. The subject in the letter seeks the attention of the readers so it can be added to the letter. You can tell the agenda of the meeting and those matters which are required to be discussed regarding the upcoming event in the company.
Telling everything in advance makes the reader prepare himself mentally and he can also note down some important points which can be discussed in the meeting. Try to elaborate the purpose of the meeting in clear words. It is important to tell the time, date, location and other details of the meeting. Try to make the reader know how important it is for him to join the meeting for the discussion on the upcoming event. Also, tell the reader that his point of view matters a lot for the company and he is being invited to the discussion because of his importance and he should attend the meeting.
LETTER
Dear [Recipient's Name],
Good day! We would like to invite you to the meeting which will be conducted on 15th of this month at 4 p.m. As you know that we are going to conduct an inauguration ceremony of our business in next month for which we should make several arrangements. We want that ceremony to be successful with our joint efforts. For this, we would like you to attend the meeting and give us your valuable suggestion regarding the upcoming event in the company.
We will be pleased to see you at the above-mentioned time in the conference room of our company.
[Your Name]
[Senders Title] -Optional-
Download Details: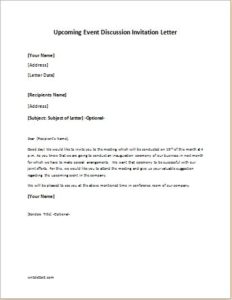 Upcoming Event Discussion Invitation Letter
Size: 33 KB Word .doc File 2003 & later
Download
Size: 313 KB PDF File
Download
[personal use only: Not for Resale & Distribution]