Warning Letter for School Discipline Violation
Discipline adhere an important place in life. Discipline is always required in every field of life. As Jim Rohm says "Discipline is the bridge between goals and accomplishment." A well-disciplined person is always successful in personal and professional life. An absence of discipline brings chaos and anarchy. Our armed forces are best examples of discipline; their whole career is only based on discipline. Discipline brings strength in a person as well as a confident character. From childhood, our parents teach us to be organized and this all is for making us well disciplined. So, if we start learning it from home then our schools we turn out to be very successful in our life. Students are much demeaned to be disciplined to be successful in their practical life. And if we start learning such necessary things in initial phases we can come out with a lot of creativity and will be appreciated well.
LETTER
Malcolm X School
Kelly Dames
1900 W Jackson Blvd, Chicago.
November 19th, 2017
Ms. Estella Jones
Block 12 D, Diamond Avenue, Chicago
Dear [Recipients name],
As per school rules last weekend you violated the discipline. It was strictly noticed by the staff and then being told to the Principal. Principal wanted to take strict action against you. A student has a lot of responsibilities in his study career and he must abide by them. He is always required by teachers as well as parents to set the best example for others. When it comes in the educational career, one has many obligations to act on as per rules by his school or college. As we need education to bring a better person out of us. If we do not follow rules and regulation it is all in vain. Your parents always love to hear the best from your teachers. But as it was your first violation of bunk your classes last day even you were present in school so it is a warning to be careful in future.
I would strongly appreciate your apology and I hope this would not be repeated again.
Sincerely,
Kelly Dames
Download Details: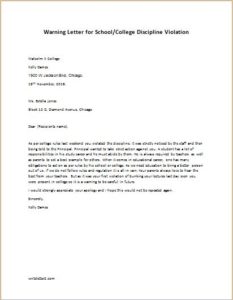 Warning Letter for School Discipline Violation

Size: 33 KB Word .doc File 2003 & later
Download
Size: 312 KB PDF File
Download
[personal use only: Not for Resale & Distribution]