Letter Announcing Transition to Permanent Employment
Businesses want to make sure that the employees that work with them have enough potential to make their business successful. As a careful approach, most businesses do not hire employees on a permanent basis. Instead, they choose to hire them on a temporary or contract basis. If an employee's performance is satisfactory by the end of the contract or the company finds the employee suitable for their business, their type of employment is changed from temporary to permanent.
This announcement is made via an announcement letter so that all other employees are also informed about it. It is suggested to explain in the letter why the employee has been offered a permanent employment so that it could also work as a motivation for the rest of the employees who are working with the company on a temporary basis. This letter can be used to announce the transition of a temporary employment of an employee to a permanent one.
LETTER
To [all the employee(s)]
This is to announce that the employment of Mr. [enter employee name], who was working with us as [enter title] on a temporary basis is now changed to a permanent employment. We congratulate him for this achievement. This transition has been made mainly due to his overall performance that has remained exceptional in the period of his temporary employment. He has rightly availed the chance to progress from good to better that was given to him. He will now be able to enjoy all those prerogatives that our permanent employees enjoy.  We hope that he will continue to benefit our business.
Good luck Mr. [enter employee name]!
[Your Name]
[Senders Title] -Optional-
Download Details: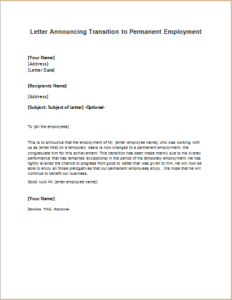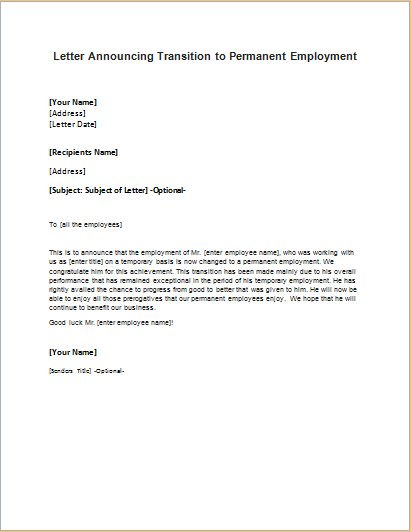 Letter Announcing Transition to Permanent Employment
Size: 26 KB Word .doc File 2003 & later
Download
Size: 188 KB PDF File
Download
[personal use only: Not for Resale & Distribution]