Board of Directors' Acceptance Letter
The Board of Directors Acceptance Letter is basically a letter in which all the board of directors jointly accept another new board of director. The new board of director has been chosen from a personal to a business among the list of new directors of the business. If a person wants to be a board of director or part of the company then he writes a letter to the board of directors. Then, if the board of directors selects him/her then they write this Acceptance Letter to him/her.
The person who sends this letter is a person from a higher post and a member of top management. He is supposed to write this letter in a proper business terminology and language. He must also be very careful to choose the formal and official pattern as it is quite important. To write a Board of Directors Acceptance Letter is a tough job but only the person who knows the informal and formal language difference can write it easily.
Board of Directors' Acceptance Letter
Dear [Recipient's Name],
I am very much pleased to let you know that I accept your offer to become a part of your company and to be one of your boards of directors. I guarantee you that I will use my experience, knowledge, and expertise to help the organization. I entirely understand that my role as a board of director will entail me giving advice and making important decisions. I do know that you will decide my earnings on the day when I will sign the contract. I hope that my earnings will be near to the earnings of other board of directors. You can call me at any time as I have given you all my contact numbers. It will be a pleasure to serve your company.
Yours Sincerely,
[Your Name]
[Senders Title] -Optional-
Download Details: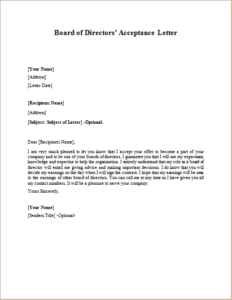 Board of Directors' Acceptance Letter

Size: 27 KB Word .doc File 2003 & later
Download
Size: 161 KB PDF File
Download
[personal use only: Not for Resale & Distribution]