School Fee Increase Announcement Letter
Schools and colleges when raising the fee announce the increment in fee through a fee amount increase announcement letter. This letter not only informs about the increase in fee amount but also mentions the reason for why the fee has been increased. The official announcement reduces the chances of any conflicts between the institute management and the parents/guardians of students at the time of payment of fee since they are already informed about the increase.
Sample -1
We hope you are all doing well with your families during this hard time of the pandemic. Thank you for showing your trust in us for better and quality education. You all know that the new academic year is about to start. Please find our fee schedule that indicates an increase of 10% for all students for the whole academic year.
We know that the world had to suffer a lot during COVID 19. Last year has been so hard in this regard. Keeping in view the whole scenario, we have announced a small increase in annual fee as compared to our competitors. We want our school to be treated as a sign of sanctuary and comfort for your children. Provision of quality education at a reasonable cost is our hallmark and we don't want to put an extra burden on you in lieu of heavy increments in annual school fees. Thanks to our benefactors whose generosity has enabled us to moderate this increase.
Effective from the upcoming year, we have introduced electronic funds transfer to avoid the rush in banks. Moreover, a monthly payment plan is also being introduced in addition to traditional annual and quarterly payment options. Please find the attached link for the payment option and complete it within a week. Our software will save the payment method for each student. Please note that a plan once selected cannot be modified or changed until the next academic year. Moreover, payment through electronic fund transfer will be deducted on the first date of every month.
We do understand that you are already struggling with the fee. Regretfully, we have no choice but to announce a moderate increase in the fee. Our school is the only one in the area not being financed by any bank. We are imparting interest-free and quality education to your children at a reasonable cost. This increase was thought to be indispensable keeping in view the rising costs of all commodities. Management would like to say thank you all for showing your trust in our education system. We do realize that increased annual fee demands sacrifice.
Rest assured, your child is in safe hands and is being educated by highly skilled staff. We are committed to providing quality education in a highly conducive environment. We believe your children are growing to their fullest potential and will be leaving the fore-walls to serve humanity.
Thank you for your cooperation.
Regards,
School Management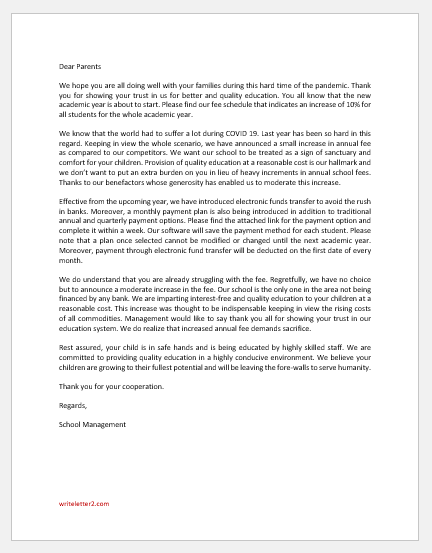 Size: 22 KB Word .doc File 2003 & later
Sample -2
Dear Parents,
School management would like to say sincere thanks to all the parents for entrusting their children to us. Letter in your hand is pertaining to be the information regarding annual fee and other school charges. Although the current pandemic has hit hard across the globe, we appreciate that all parents are fulfilling the financial formalities of the school in a timely fashion.
It is being announced on behalf of the school council that an annual increment of 10% on the school fees will be applicable effective from the new academic year. To continue with our tradition of quality education, the school council decided to announce this increase during its monthly meeting. However, it is also informed that this is the lowest possible increase as compared to our competitors.
Management knows that this is a hard time for many families suffering from the economic crunch. Regretfully, due to several factors, it was forced to take the above-mentioned decision. First, we continued with the existing fee for the past three years, but everything increased in price. Secondly, staff increments were put on hold for three consecutive years. Thirdly, a significant increase in the prices of scientific equipment and textbooks has been observed. In short, we want to keep our school fully equipped with modern learning facilities which are not possible without this nominal increase in fee.
Dear parents, if you compare this school with others, it will be clear that we have tried our best to keep the fee to the minimum possible level. Most of the profit we obtain is spent on making modern classrooms and buying new scientific equipment. Now we are introducing two new subjects in our A-levels program, and it demands a new room.
I would like to say thanks to all the parents who have been meeting all school expenses on time. I hope you will understand the situation and continue cooperating with us in the future also. Please find attached the fee schedule for the new academic year and follow it.
Thanking you in anticipation for your kind cooperation.
Regards, '
School management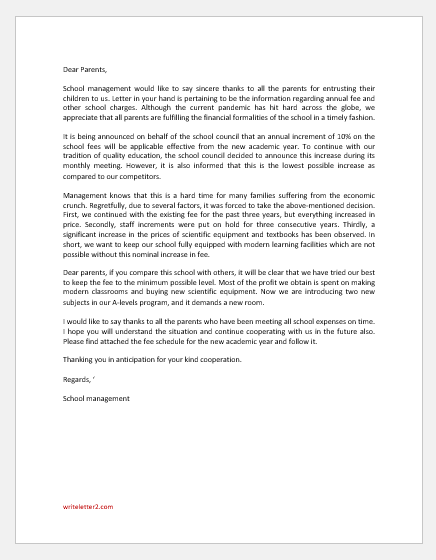 Size: 21 KB Word .doc File 2003 & later
Sample -3
[Subject: Subject of Letter] -Optional-
Dear [Recipient's Name],
This letter is to inform you that our institute has recently raised the amount of the fee by [X]%. You know that our institute has remained the most reputable institute of [place name]. We have always tried to provide quality education and learning. There is no parallel of our institute when it comes to quality education at an affordable fee.
Since we invest in our kids to make them bright students and responsible citizens, we want to facilitate them with better facilities and environment. For this purpose, we have to increase our fee amount so that we can provide even better education and facilities to students. You are informed that from now onwards the monthly fee of [institutes' name] will be [enter amount].
For further queries please contact at our office numbers in office timings. Thank you.