Vacation or Leave of Absence Approval Letter
Leave of absence is different from the usual leave as the leave of absence is a long term of time that an employee takes while a usual leave from work is a short-term absence. In this time of increasing competition, employees have been loaded with more work. There come times when an employee seeks to refresh himself, give time to his family, enjoy a vacation or to take time off for work just to stop a continuous workload. In such cases, a LOA or leave of absence is the solution. Companies have their LOA policies defined. So in most cases, if a request for the leave of absence of vacation complies with the policies, it is granted. An approval letter for vacation or leave of absence should be written in a little informal and light tone. Since the employee wishes to seek refuge from the tensions of work, it is better to Goodbye him assuring that he has been granted leave happily and as his due right so that the employee could enjoy his off time.
LETTER
Dear (Recipient's Name),
I had a meeting with you regarding your leave of absence on [enter date] and I have also received your written application. You have been working very hard since the past [enter period], I find it your due right to take some time off from work. In compliance with the company's policies and your requested time period, I am hereby granting you a leave of absence for [enter period]. Hope to see you back in [enter month].
Take your time. Enjoy!
[Your Name]
[Senders Title] -Optional-
Download Details: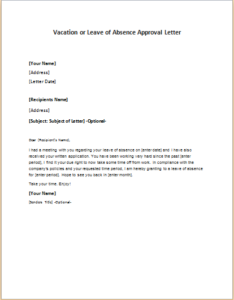 Vacation or Leave of Absence Approval Letter
Size: 26 KB Word .doc File 2003 & later
Download
Size: 182 KB PDF File
Download
[personal use only: Not for Resale & Distribution]