Vacation or Leave of Absence Approval Letter
Letter -1
We have received your application for leave for an end-of-year vacation with your family. We are glad to inform you that your application has been approved. The company shall grant you one month's leave from 10th November 20XX till 10th December 20XX.
You have been a hardworking and dedicated employee of this company and have worked with commitment and zeal on all the projects assigned to you. Keeping that in mind, we have decided to pay you a full salary for this month so you can spend time with your family without worrying about the finances.
We expect you to join back by 11th December and notify us in case there is an emergency, and you are unable to join the office by the given time. We also wish to inform you that the paid leave will apply only for the period of one month, after which the salary will be deducted as per company policy. You will have a period of one week to join back before your contract is suspended.
We have handed over your responsibilities to Ms. Katherine Bailey during this time. Please coordinate with her and explain the tasks to her so the company operations are not interrupted. Please provide an emergency contact number for us to stay in touch in case there is a contingency. We wish you all the best and hope to see you back soon.
Regards,
Office management.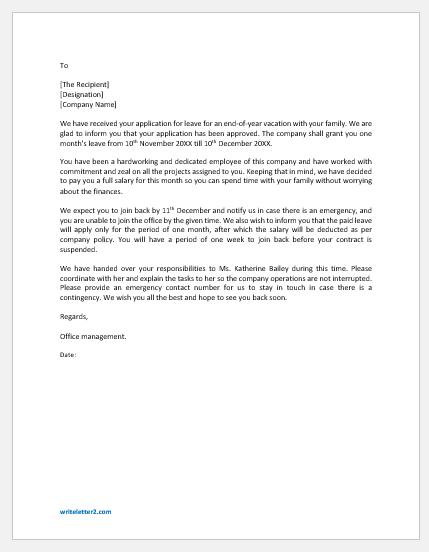 Size: 15 KB Word .doc File 2003 & later
Letter -2
You notified us on 5th November 20XX about an urgent medical leave you require as you have been tested positive for COVID-19. I am writing to inform you that your application for leave has been accepted and you have been granted paid leave from 6th November till 30th November 20XX.
You will be paid full salary for this period and the company will also support your medical bills up to a certain limit, details of which are attached with this letter. The company requires regular reports from your medical professional for updates regarding your health and hospital expenses. In case you need to extend your leave beyond the agreed time, you must notify us at least four days prior.
You are not required to work from home or participate in any office activities during this time. However, in case of emergencies, you may be contacted by our staff after getting permission from your medical professional. Mr. Roberts will be looking after your work in your absence.
We also wish to inform you that if you do not join the office by the end of your leave and do not notify us of an extension, your contract shall be considered temporarily suspended. You shall have three days' time to contact us, after which it shall be terminated, and you may re-apply for the position at a later time. We wish you a speedy recovery and hope to see you soon in good health.
Regards,
Office management.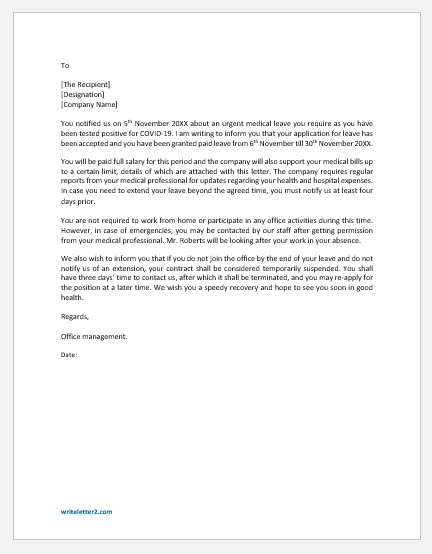 Size: 15 KB Word .doc File 2003 & later
Leave of absence is different from the usual leave as the leave of absence is a long term of time that an employee takes while a usual leave from work is a short-term absence. In this time of increasing competition, employees have been loaded with more work.
A time comes when an employee seeks to refresh himself, give time to his family, enjoy a vacation, or take time off for work just to stop a continuous workload. In such cases, an LOA or leave of absence is the solution. Companies have their LOA policies defined.
So, in most cases, if a request for the leave of absence of vacation complies with the policies, it is granted. An approval letter for vacation or leave of absence should be written in a little informal and light tone. Since the employee wishes to seek refuge from the tensions of work, it is better to Goodbye him assuring that he has been granted leave happily and as his due right so that the employee could enjoy his off time.
Letter -3
Dear (Recipient's Name),
I had a meeting with you regarding your leave of absence on [enter date] and I have also received your written application. You have been working very hard since the past [enter period], I find it your due right to take some time off from work. In compliance with the company's policies and your requested time period, I am hereby granting you a leave of absence for [enter period]. Hope to see you back in [enter month].
Take your time. Enjoy!