Company Name Change Announcement Letter
Businesses sometimes change their name due to one reason or the other. Since the name is what a business is recognized with, it leaves a great impression on a business and its sales. Customers and clients need to be informed that the name of the business has been changed.
A company name change announcement letter is sent for this purpose. This way the clients know that the company has only changed its name and they will continue to have the same quality work and products from them since the company has only changed its title. You can use this letter in the case you change your company's name at any instance during the business career and this will be of great benefit.
Sample Letters
Silver Lagoon Ltd.
Julia Sylvester
Block EA, Pearl Street, Albany, New York
January 28th, 20XX
Mr. Rolando DA Vince
Tri-Star Ltd.
42 St. Clinton Avenue, New York
Dear [Recipients Name],
This letter is to announce that we have changed our company's name from [old name] to [new name]. This was done due to some business reasons and we will now onwards be using this new name officially for the company's recognition. Please note that our name change will have no effect on our services and products. We have also not changed our address. Our company wants you to remain our valuable clients as always.
For any further queries, please contact at our office numbers during office hours. Thank you!
Sincerely,
Julia Sylvester
Managing director, Silver Lagoon Ltd.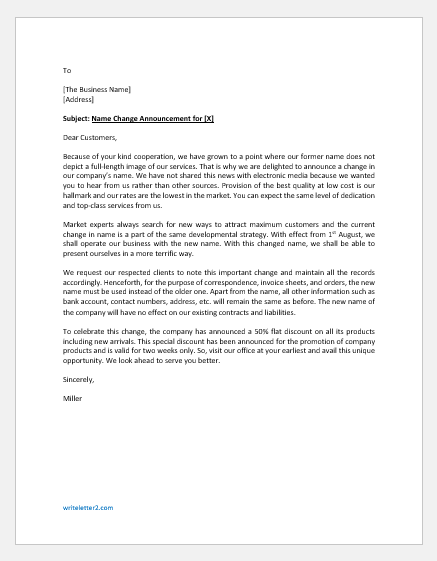 2-
Subject: Name Change Announcement for [X]
Dear Customers,
Because of your kind cooperation, we have grown to a point where our former name does not depict a full-length image of our services. That's why we are delighted to announce a change in our company's name. We haven't shared this news with electronic media because we wanted you to hear from us rather than other sources. Provision of the best quality at low cost is our hallmark and our rates are the lowest in the market. You can expect the same level of dedication and top-class services from us.
Market experts always search for new ways to attract maximum customers and the current change in name is a part of the same developmental strategy. With effect from 1st August, we shall operate our business with the new name. With this changed name, we shall be able to present ourselves in a more terrific way.
We request our respected clients to note this important change and maintain all the records accordingly. Henceforth, for the purpose of correspondence, invoice sheets, and orders, the new name must be used instead of the older one. Apart from the name, all other information such as bank account, contact numbers, address, etc. will remain the same as before. The new name of the company will have no effect on our existing contracts and liabilities.
To celebrate this change, the company has announced a 50% flat discount on all its products including new arrivals. This special discount has been announced for the promotion of company products and is valid for two weeks only. So, visit our office at your earliest and avail this unique opportunity. We look ahead to serving you better.
Sincerely,
Miller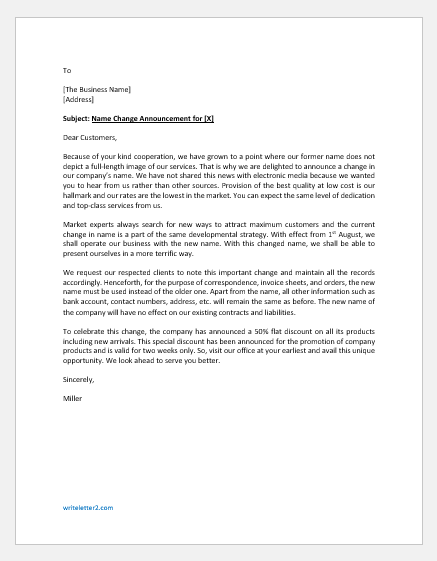 Size: 22 KB Word .doc File 2003 & later
Download
---
3-
Subject: Name Change for [X]
Dear Customers,
You all are hereby informed through this letter that we are going to change our company name. From now onward, we will be known as KUB Technologies instead of KUB Solutions. This change is effective from 1st of August.
Your kind cooperation has caused a tremendous increase in our business. By virtue of your trust, we have been able to expand our business. This huge expansion caused us to change our company name. You know we are already providing you best quality products and world-class services. However, it is believed that with this changed name, our products and services will be diversified. In addition, our desire to approach the neighboring countries will also be fulfilled. We want to serve at our best and have taken this important step for our respected customers.
Our respected clients requested to note this change in our company name. Effective from 1st August, all types of business communication will be carried out using this new name. However, other information such as bank account number, company address, and phone numbers will be the same.
Moreover, you are assured that this change in name will not affect the overall quality of our products and services. Quality is our hallmark and we cannot even think about compromising on it. Despite this change, it is our guarantee to serve you with our fullest potential. Alongside, we promise to introduce our newest products in the market very soon. We have always enjoyed doing business with you and want to continue this rich tradition. You are invited to visit our office on [date] to enjoy a grand feast because we are celebrating this important change. We hope to see you soon in our office so that we could introduce you to our newness.
Thank you very much for your trust and cooperation.
Sincerely,
Andrew Murray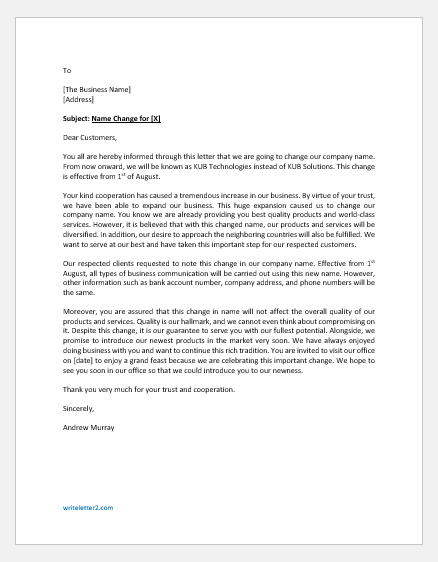 Size: 22 KB Word .doc File 2003 & later
Download