Invitation Letter to an Industry Veteran's Speech
The invitation letter should be written in such a way that it can mirror the positive tone and message of the recipient. The letter should be considered as an invitation to such an event which is a very cheerful activity. It should be clearly indicated in the letter that the presence of the reader is required in the speech event. You can also include the names of some other people who have also been invited to the speech event.
The most important thing to remember while writing the invitation letter is to include all the details of the event. The date, time and the location of the event are some of the very common details which are required to be included in the invitation letter. The letter is never considered to be complete if these details are not added to it. There are also some other details which can be added to the letter depending on the type of the event which you are inviting to.
Another major information to be included in the letter is to add the purpose of conducting the veteran's speech. You can also include the benefits which the reader will get from attending it. Try to give such statements in the letter which can ensure that the speech will be very enriching for the attendees.
You can also mention if food will be served in the event or not. The letter should be written in a most courteous manner and the writer should show joy on inviting the reader. It should also be indicated in the letter that you will looking forward to the reader. The letter should not be too long. You can also omit certain details from the letter if you want to make the letter brief.
Although the invitation letters are formal and should be kept brief, you can make your tone quite friendly and positive. End the letter at a very positive note. There should not be any grammatical or spellings mistake in letter as it puts a bad impression on the minds of a reader. You should completely check the letter for any such mistakes.
 Invitation Letter to an Industry Veteran's Speech
Philip de Souza
[Address]
February 17, 2017
[Recipients Name]
[Address]
[Subject: Subject of Letter] -Optional-
Dear [Recipient's Name],
Mr. Frank de Fuxico is going to share his experience of working in our company for last 20 years. This will be a very interesting event as he would be sharing many tales from his experience. The speech will take place in conference hall on coming Thursday at 11 am. It will be a great opportunity for you to meet other people from our company also. There will be refreshments for our valuable guests. You can also invite guest(s) who have relevant interest in the subject with you. It would be a great honour for us to see you in the event.
Eagerly waiting for your participation in the event of veteran's speech of the industry
Sincerely,
Philip de Souza
[Senders Title] -Optional-
Download Details: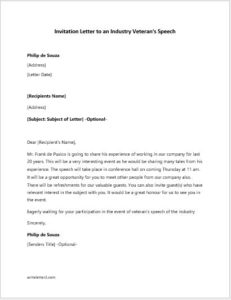 Invitation Letter to an Industry Veteran's Speech

Size: 24 KB Word .doc File 2003 & later
Download
Size: 320 KB PDF File
Download
[personal use only: Not for Resale & Distribution]