Letter to Reprimand Employee for not Meeting Deadlines
Letter -1
I [title] [name] am writing to you in reference to your last projects' late submission. When you were assigned the project you were duly informed that it is time-sensitive and it was critical to its success that you complete your part in time. You were given frequent reminders in the meetings held to discuss progress but you still didn't pick up your pace. Now since the tender was not prepared on time the [department name] team is left with no time to work on it and submit it before the deadline and hence we couldn't apply for the tender.
The loss we have suffered is not just monetary as you have also wasted all the hard work of the team that worked on the project before you. All the man-hours spent in perfecting the proposal are now wasted. Be very clear that such negligence would not be tolerated again. Consider this to be a warning, if a similar situation arises again, we would be forced to think about the termination of your work contract.
Looking forward to better performance in the future,
Yours sincerely,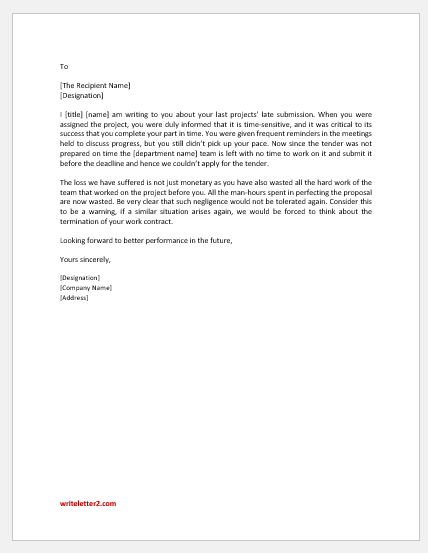 #2
Dear Ms. [name]
I am writing to you on behalf of the school management. You were assigned the task of making a timetable for middle school on [date]. We were very clear that you have to submit it by [date]. The intent was that it should be communicated to the teachers and the students in time so that when the students come back after the winter vacations the new term can commence smoothly without any delay or inconvenience to anyone.
We still haven't received the timetable at the time of writing this letter on [date], despite the frequent reminders by your Senior Mistress Ma'am [name]. Your negligence and tardiness have affected the whole middle school. Teachers are waiting to be assigned their timetables so that they can plan their lessons accordingly. The school is reopening tomorrow and the students have not yet been communicated their timetable.
This was a time-sensitive task and we had better expectations from you. Your failure to complete the task at hand in time has created a problem for everyone and this type of slackness is not tolerated in our school. We expect you to submit the timetable tonight by [time], latest. You have to see the principal tomorrow at noon to explain your position and why this extremely inconvenient delay happened.
Looking forward to more responsible behavior in the future,
Yours sincerely,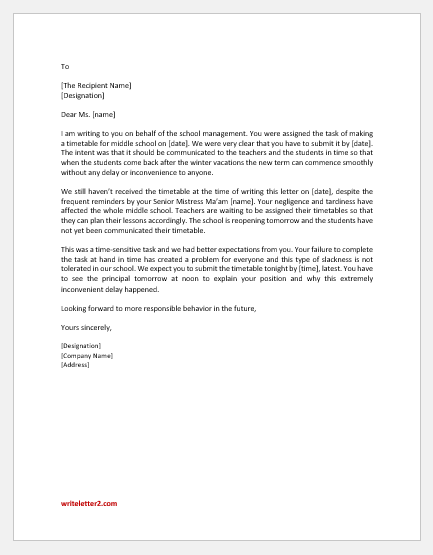 Letter -3
Dear [recipient's name],
We hire employees to work for us. Being in this important line of business where competition is increasing every day, we want to make sure that our employees are competitive, potential, and punctual. I am sure that you know punctuality is not only to come to the workplace and meetings in time. It also includes completing the given work in the given time. Although your performance has not been the same earlier, I am disappointed with your performance.
You are not meeting the deadlines and this is not the first time that you are going beyond the deadlines. Your performance is affecting our reputation. Our clients have had an unsatisfactory experience with us since their project was not ready in time and it was you who was managing the projects.
I am afraid that if such a performance of yours continues, we'll be left far behind in the business line. I want you to be conscious of meeting the deadlines given to you. In the case otherwise, I shall have no other choice but to send you a final decision. Thank you!