Letter Inviting Potential Clients to New Store Opening
Clients make the business successful. Without them, of course, no business can flourish. The greater part of every successful business is its clients. When businesses expand their projects, companies open their branches, superstores open mini-stores or a brand launches a new brand etc., potential clients are informed for sure. It is true that a general advertisement is done for the mentioned purposes in order to grab public attention but since businesses know that some of their clients are the truly potential clients that can help them with their expanded businesses, letters are sometimes written to such clients in order to inform them about the new business or branch opening etc. People usually are attracted when they are informed individually. This works as one of the most successful business tactics to engage with potential clients in a friendly manner when you are about to start a new beginning.
The letter below can be used to invite a potential client to a new store opening.
Letter Inviting Potential Clients to New Store Opening
Hakama Violin
[Address]
[Letter Date]
[Recipients Name]
[Address]
[Subject: Subject of Letter] -Optional-
Dear [Recipient's Name],
It's been five years since we have you as our much valuable client and you have always been one of the most cooperative customers. We hope that you are enjoying our products as always. This letter is meant to inform you that we are opening the new branch of [enter store name] at [enter place name]. The opening ceremony is on [enter date]. We request the pleasure of your company at the grand opening of our store and want you to please join us with friends and family. There is also a gift distribution at the end of the ceremony and a number of special packages for our clients who'll be at the opening of our store. We're hoping to see you.
Please join us!
Hakama Violin
[Senders Title] -Optional-
Download Details: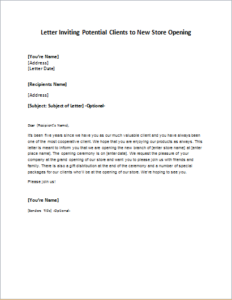 Letter Inviting Potential Clients to New Store Opening
Size: 25 KB Word .doc File 2003 & later
Download
Size: 274 KB PDF File
Download
[personal use only: Not for Resale & Distribution]