New Hiring Strategy Approval Letter
The approval letter is a document in which written consent is given by a regulatory body. There are no obligations or restrictions to achieve the goals required by the obligatory body. In any company, hiring is the most important part.
The hiring should be done in such a way that a company can hire the most devoted and hardworking candidates out of all applicants. Sometimes, the old hiring strategies may not be so cooperative for the company and there may be a need to change that strategy.
When the manager or any head of the department wants the hiring strategy to be changed, he has to write the letter to the regulatory body of the company which will then review the request and if it finds it positive, then an approval letter for the new hiring strategy is generated. This approval letter is proof that the person requesting approval has been granted.
Letter -1
I am writing this letter to inform you that we have found your project outline to be very positive. We believe that the new strategy proposed by you will be very helpful in streamlining the existing hiring process of the company and it will also be very economical for the company as it will save a lot of time and money.
We eagerly want you to tell us more about your proposal regarding the new hiring strategy and because of this, we are arranging a meeting with you on [Date/Day/Time] [Evening/ Morning/ Afternoon, etc.]. Our assistant will stay in touch with you for more details.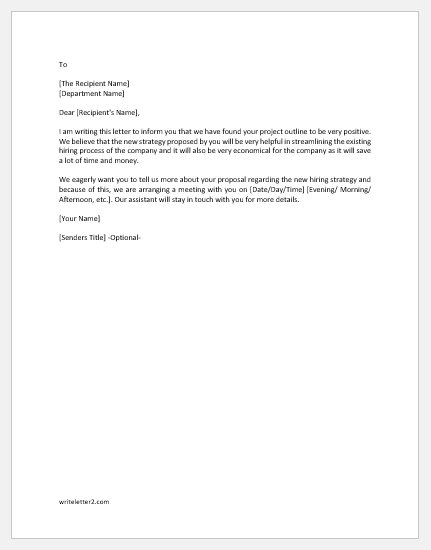 Letter -2
New hiring strategy for university staff
I am writing this letter to you to request you the hire of new staff members. As we know that the admission session started at our university. Fortunately, the rate of admissions is increased from the last year. Suddenly, we are in a need of new quality staff. We have to hire both permanent and visiting faculty for the new students in our university. Moreover, we require other quality staff for different departments.
I have a special strategy for the above-mentioned situation, strategy is listed below:
Assistant professor x 4
Lecturer x 6
Administrators x 2
Clerks x 3
Kindly approve my strategy list so I will be able to transfer this data to the HR department. HR management will advertise the concerned vacancies available on different platforms. I assure you that this strategy will be very helpful for us throughout the new semester. I hope you will consider my plan as soon as possible. I am looking forward to your positive response. Thank you for your time. Best wishes.
Regards,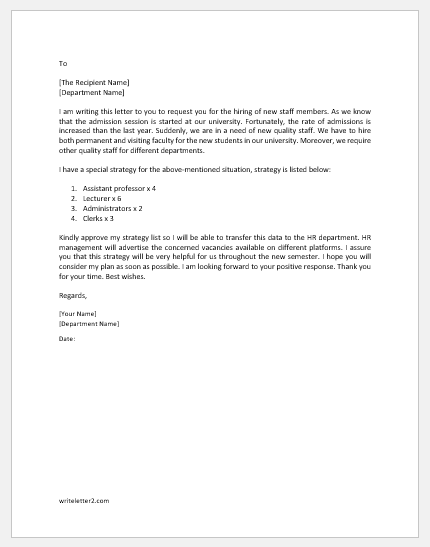 Letter -3
I am writing this letter to request you to hire a new photographer for the company. As you know that our company is also working for different advertising brands. We are always hiring a freelance photographer for the shooting of our products. This year we are expanding our business as we are introducing clothing brands as well as cosmetics products.
So, I suggest you introduce a new vacancy of the photographer for the company because if we will hire a photographer on freelancing every time we need to shoot our products, we surely suffer a financial loss. Hence, I suggest you hire a photographer for the brand shoot.
From doing this, we will get a permanent photographer for our brand's advertisement. The applicant will be hired on a permanent basis and s/he will be available not only for the shooting of products of our brands but also will be looking at the work of marketing agencies and advertisement brands we have.
I hope you like my suggestion and idea about this vacancy. I realize that we have to pay a regular amount monthly to him but I assure you that our company will never suffer a loss from doing this act. Overall, we will be in a win-win situation. If you like my idea then we will arrange a meeting and discuss it further with employees.
If you have other quires feel free to contact me on [X]. I am looking forward to hearing some good news from you as soon as possible. Thank you for your time.