Letter Informing the Employees about Office Closing
Profit and loss are parts of the business endeavor. Companies have to take steps as per their financial conditions. Businesses are usually expanded and more branches are opened but contrary to this, sometimes, businesses have to contract their workplaces as well as workforce due to the circumstances that they face.
Employees have their living dependent on the business of the employers for whom they work. It is, therefore, important that if a business finds its financial conditions declining and plans to close its branches or a company as a whole, the employees are informed about it well before time. So that, they could find alternate opportunities for them because in the case of closure of an office the workforce is granted with no extra packs and packages since the business is already in danger. What are employers supposed to do as the least favorable to their employees is not to keep them unaware of any such decision that they take?
This letter can be written in order to inform employees about the closing of an office.
LETTER
Dear (Recipient's Name),
I am sad to inform you that after facing continuous loss in business, we are under a lot of financial pressures. There are currently [3, 5, 6 etc.] branches that we have in different cities. After a decline in our market value and the financial loss that we faced, it is not possible for us to keep the load of the workforce of all branches. There is no hope of recovery in this case if the load remain the same so we have planned to close our [Enter branch name] branch. Please don't panic. The office will close down after 9 months from now. Till then you'll keep receiving a salary for the work you'll do and hopefully will be able to find better opportunities for yourself in this period. Please do not request for transfer to other branches as we already have enough workforce in all branches and no transfer is possible. I am sorry that you'll have to leave us this way but I hope that you understand what massive pressures that company is facing. We were left with no other choice. Accept our humble apologies.
Benjamin Giglio
[Senders Title] -Optional-
Download Details: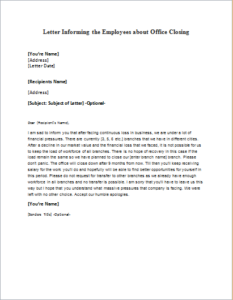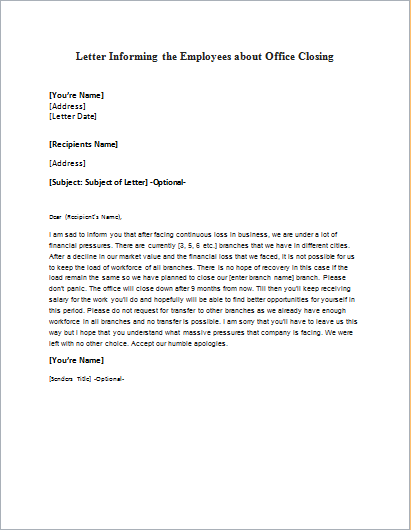 Letter Informing the Employees about Office Closing
Size: 25 KB Word .doc File 2003 & later
Download
Size: 183 KB PDF File
Download
[personal use only: Not for Resale & Distribution]