Letter to Appreciate Efforts of Employee at Product Launch
One of the things that we crave, being humans, is appreciation. Julia A Carney in her poem little things points towards the importance of little things that we ignore; appreciation is one such little thing that we ignore in our lives. It does not take any effort and money to spend appreciating others for their good things.
It is a well-known fact that appreciation encourages the appreciated person to do even better. The importance of appreciation in the business sphere cannot thus, be ignored since businesses want not better rather the best. Writing an appreciation letter to your employees can do miracles for you.
If an employee is appreciated by the employer or any other senior staff, he is fueled by a positive motivation to come up with even better work. Contrary to this, if employees are never motivated by appreciation, feel discouraged and eventually end up working on average. Whenever you find them doing great, appreciate them right away by writing a letter of appreciation to them. This letter given below can be used to appreciate an employee for his effort at the product launch.
Letter -1
I [Title] [Name] from [department name] am writing to you regarding your efforts in arranging and managing yesterday's mega launch event of the new [product name]. The importance of these events cannot be denied. They not only showcase the new product but also help in building the company's image and gaining new customers.
We are fully aware of the effort that goes into planning, arranging, and executing an event of this scale and magnitude. Your hard work and dedication are the reason you were assigned this task and we are very proud of the way you shouldered this responsibility. If you continue working like this, the sky is the limit. Keep up the good work!
Yours sincerely,
2.
I [Title] [Name] from [department name] want to congratulate you on the success of the mega event held on [date] to launch our new [product name]. Research and development, production, and assembly, in short, all the steps are important but the most important one in today's visual world is marketing. Launch events are a very vital part of that process.
The launch event has firmly established our product in the market and showed the competitors that they are in for a tough time. The number of people who pre-booked the product is proof of the success of the marketing strategy.
We really appreciate all the hard work and diligent labor you have been putting in for months. As a token of our appreciation, we have decided to give you a bonus this month. Stay motivated!
Yours sincerely,
3.
Dear (Recipient's Name),
I cannot appreciate you enough for your extraordinary efforts at the product launch on [enter date]. Thank you very much for making the launch successful. You managed everything professionally [enter some detail]. As an employee, your work has always been satisfactory and you never gave a single chance to complain. I find myself fortunate to have a hardworking and passionate employee like you at my office. I also have good news for you. Your salary has been increased. You'll receive the increment letter soon.
Very well done! Mr [enter name]. Please keep it up. Thank you!
[Your Name]
[Senders Title] -Optional-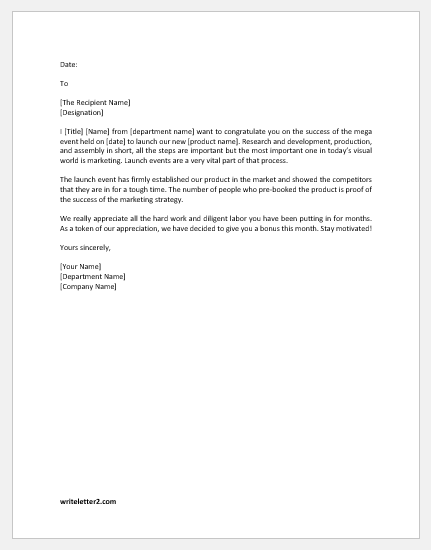 Size: 15 KB Word .doc File 2003 & later