Letter Giving Advice to Subordinates about Punctuality
Letter -1
I have had a chance to look at the arrival time of the employees for the past few weeks and I was concerned to see that most of you arrive later than the reporting time, which is 9 am.
It has been communicated clearly on your contract that tardiness will not be tolerated as it hinders daily office operations. The employees are expected to report sharp at 9 am unless there is an emergency that needs to be communicated to the manager as soon as possible.
I request all the employees to please be on time so the workflow can be managed smoothly. It has been observed that sometimes the clients have to wait for our team to arrive which gives a really bad impression of our company. From now onwards, a penalty of $50 will be imposed on any employee who arrives after the reporting time.
In addition, we have introduced a biometric system of attendance at the main gate which will shut down after the reporting time. Hence, no latecomers will be allowed inside the premises if they're late and their salary for the day will be deducted in addition to the $50 fine.
We hope that the employees will cooperate with us and comply with the rules to ensure an efficient and professional work environment. Please feel free to contact HR in case of any further queries.
Regards,
Office management.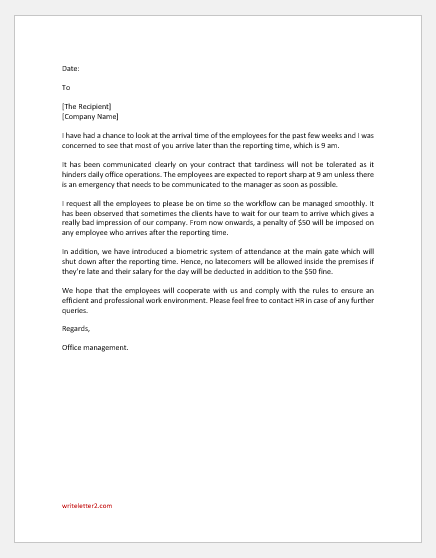 Size: 12 KB Word .doc File 2003 & later
Letter -2
Dear employees,
It has been observed that the employees are not punctual with the office timings. They do not take the reporting time seriously and arrive at the office space at least thirty minutes after the reporting time.
In addition, the footage from CCTV cameras revealed that many of you like to hang out at the reception and engage in chit-chat with your colleague which disturbs the decorum of the office and wastes everyone's time. Every day at least thirty minutes to an hour is wasted in this activity before everyone settles down for work.
We have decided to take stricter action against anyone who arrives late at work or wastes time gossiping at the reception before work. A warning letter will be issued every time a worker is late and after two warning letters, a fine of $100 will be imposed. This fine will not be waivable under any conditions and will be deducted from the employee's salary.
We want to emphasize the importance of punctuality to the employees. Punctuality helps you achieve your targets in a timely manner. We also wish to remind them that the salary is paid by the hour at our company. It is dishonesty with your company to waste hours which you are paid to work for.
We request everyone to arrive by 9 am from now onwards and be honest and respectable towards your work and regard the timings. Wish to see you all at 9 am sharp tomorrow! We wish you all the best.
Regards,
Office management.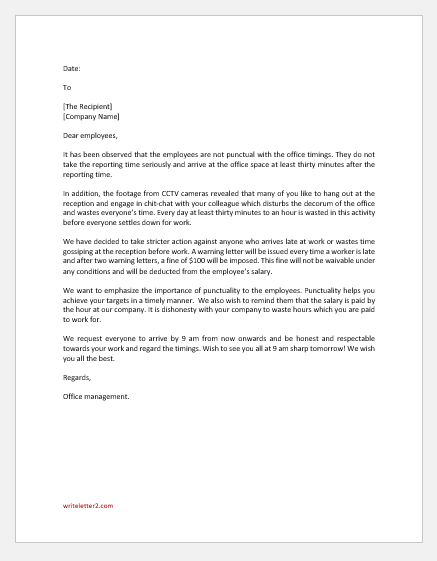 Size: 12 KB Word .doc File 2003 & later
There is no way a business can flourish if its employees do not follow the golden rule of punctuality. Even a minute up and a minute down affect businesses. Apart from the daily routine of reaching the workplace in time, if the employees are not punctual, they are most expected to puncture the whole business since nothing could be done in time. No meeting in time, no commitment in time, no project in time, eventually everything would be upside down.
Therefore, it is important that the employees are advised to be punctual. It does not necessarily have to be done by the employer himself. The seniors of the workplace can advise juniors to be punctual. This letter can be written to the subordinates in order to advise them about punctuality.
Letter -3
Dear (Recipient's Name),
I am writing this letter to you regarding the non-punctuality that I am observing continuously by some of you. I would like to remind you that we are in a business environment and in business environments being unpunctual is synonymous with becoming unemployed. Some of you reach the office late for which they have already been notified many times. Our projects also go beyond the expected time limit because of the non-punctuality that many of you are practicing.
I would like to advise you that this kind of behavior will affect you as well as the business. We would find other employees as alternatives but if you continue to follow the same behaviors, you will not be able to adjust anywhere in the business line since businesses require punctuality in any case.
Please take this advice and show some punctuality. I assure you a bright future if you do so. Be punctual! Thanks.
Your Name
[Senders Title] -Optional-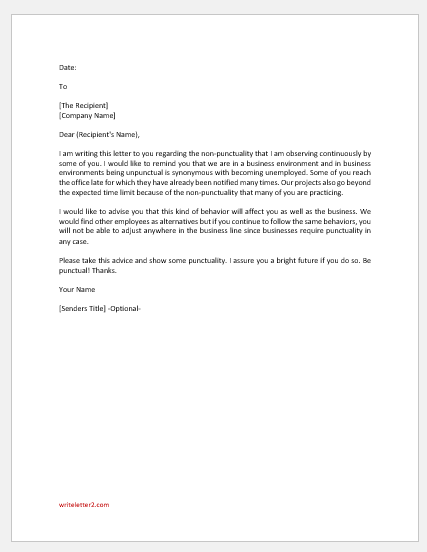 Size: 12 KB Word .doc File 2003 & later