Letter Giving Advice to Subordinates about Punctuality
There is no way a business can flourish if its employees do not follow the golden rule of punctuality. Even a minute up and a minute down affect businesses. Apart from the daily routine of reaching the workplace in time, if the employees are not punctual, they are most expected to puncture the whole business since nothing could be done in time. No meeting in time, no commitment in time, no project in time, eventually everything would be upside down. Therefore, it is important that the employees are advised time after time to be punctual. It does not necessarily have to be done by the employer himself. The seniors of the workplace can advise juniors to be punctual. This letter can be written to the subordinates in order to advise them about punctuality.
LETTER
Dear (Recipient's Name),
I am writing this letter to you regarding the non-punctuality that I am observing continuously by some of you. I would like to remind you that we are in a business environment and in business environments being unpunctual is synonymous to becoming unemployed. Some of you reach the office late for which they have already been notified many times. Our projects also go beyond the expected time limit because of the non-punctuality that many of you are practicing. I would like to advise you that this kind of behavior will affect you as well as the business. We would find other employees as alternatives but if you continue to follow the same behaviors, you will not be able to adjust anywhere in the business line since businesses require punctuality in any case.
Please take this advice and show some punctuality. I assure you a bright future if you do so. Be punctual! Thanks.
Your Name
[Senders Title] -Optional-
Download Details: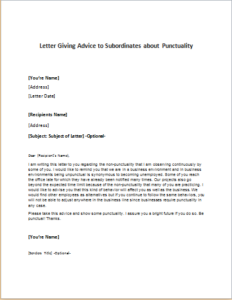 Letter Giving Advice to Subordinates about Punctuality
Size: 29 KB Word .doc File 2003 & later
Download
Size: 186 KB PDF File
Download
[personal use only: Not for Resale & Distribution]