Letter Informing a Client about the Shipment of a New Phone
The notions of buying, purchasing, and shopping have greatly changed in the recent decades. Shopping is no more to be done by yourself after taking a two miles drive to the shopping mall. Online buying system has made things so easy. It is as simple as ordering things online by filling in your details and the item is delivered to your home. Payments are either made online or at the door to the delivery man.
Some companies when they sell products to their online customers, inform them about the delivery via letters. This way the client is informed that his ordered product is on its way and if he doesn't receive it in the expected time, he can complain about it.
This letter given below is used to inform a client about the shipment of a new phone.
Letter Informing a Client about the Shipment of a New Phone
[You're Name]
[Address]
[Letter Date]
[Recipients Name]
[Address]
[Subject: Subject of Letter] -Optional-
Dear (Recipient's Name),
This letter is to inform you that your order has been delivered. The phone [enter brand and model] that you had ordered on [enter date] is now on its way to your home. This is one of our most selling product with 100% positive feedback from our customers. The features of this phone include [enter features]. We are sure that you'll enjoy your experience with your new phone. Thank you very much for being our valuable client!
Note: In the case of non-delivery, please inform us on our toll-free number 123-4567-8901.
[You're Name]
[Senders Title] -Optional-
Download Details: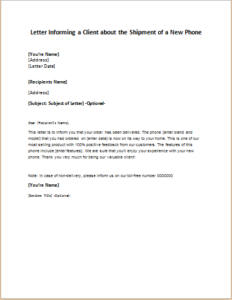 Letter Informing a Client about the Shipment of a New Phone

Size: 25 KB Word .doc File 2003 & later
Download
Size: 274 KB PDF File
Download
[personal use only: Not for Resale & Distribution]