Housing Allowance Request Message to Boss
1-
I am Stephan Jones and working as a representative in your organization over the past few years. The purpose of writing this message is to seek your favor in a matter.
I belong to Amsterdam and have come to New York for job purposes. I live in a rented house here situated a few meters from the company. The salary that I receive is not enough to meet my expenses and at the end of the month, I remain empty-handed. More than half of my salary is spent on paying house rent and other expenses.
It was mentioned in the company's policy that the employees who come from another city will get housing allowance or accommodation from the company. Till now nothing has been done to implement this. I request you now to please issue me a housing allowance in addition to my monthly salary. I have attached all the necessary documents with this message. Hope that you decide something in this regard. Thank you.
2-
Hello sir. I am Margret Seth and have been an employee in your organization. I have been here in this company for the past eight years and it is an honor for me to work with you. I am writing down this message to ask for the housing allowance that is due for the last two months.
I had taken my issue to the accounts manager and I was made satisfied that the amount will be transferred to my account in the next five days. Twenty days have been passed now but all in vain.
Therefore, I request you to investigate this matter immediately and resolve my issue. All the necessary documents are fastened to this message. Kindly have a look at them. Thank you.
3-
I hereby write this message to ask for the housing allowance that was stipulated in the policy of the college. I am a Chemistry teacher at ABC College and have been posted here for about the last three months.
Currently, I am living in a house of rent along with my family near the college. The rent is so much high that 40% of my salary is spent on it. While the rest of the amount is not enough to meet all the household expenses. Two more teachers had been appointed with me and they are living allotted houses given to them by the college.
Now I want to request you to give me a housing allowance for the last three months: March, April, and May. All the bills and concerned documents are added to this message. Kindly take immediate action on this matter and give me allowance as soon as possible. In case of further information, you can ask me. Thank you.
4-
I am Smith Levies, and I am working as an executive officer in ABC Companies for the last seven years. This message aims to ask for housing allowance for the month of November and December. As per the organization's policy, the group to which I belong is entitled to a housing allowance. But it is sad to say that allowance has not been credited to my account yet for the months above mentioned.
I have fulfilled all the requirements necessary for this purpose but still, I have not received 5,000$ in allowance. I have never come across this problem before and it is very difficult for me to evacuate the house in which I have spent almost seven years.
Moreover, I have made many visits to the account's office for the same purpose. I would like to request you now to please investigate the matter. If you find any updates regarding this matter then please do let me know. Thanking you in advance.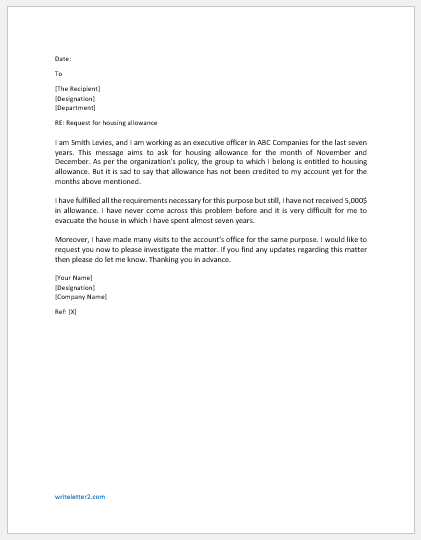 Size: 18 KB Word .doc File 2003 & later
Download