Letter to Confirm the Cancellation of a Lost Credit Card
A credit card allows a credit card holder to make purchases within the limit granted by the bank. Since credit cards are just cards. They can be lost or can easily be subjected to theft. In such a case, the purchases will no more be made by the cardholder but the one who will find the card. This can bring a great loss to the card holder since the card issuer (usually a bank) is not responsible for the safety of the card and all purchases made on the card are charged to the card holder.
Banks offer a solution for this. In the case a credit card is lost or stolen, the cardholder can request the card issuing company to cancel the credit card. With prompt action, the card is freeze and hence cannot be used any further. If a credit card holder confirms the cancellation of his card via letter, the card is canceled. Once a credit card is canceled, the cardholder is informed, primarily through the means of instant communication; phone call, message, and fax and through a letter with detailed documents.
This letter can be used by credit card holders in order to confirm about the cancellation of a credit card.
Letter to Confirm the Cancellation of a Lost Credit Card
Jacob Zuma
[Address]
[Letter Date]
[Recipients Name]
[Address]
[Subject: Subject of Letter] -Optional-
Dear [Recipient's Name],
I contacted you yesterday via a phone call to inform you about my lost credit card. I was told to write a confirmation letter for cancellation so it could be canceled. The last time when I used my card, I was at [enter place]. An amount of [enter amount] was charged for the purchase that I made there. I was hoping to find my card somewhere within the house but it is nowhere, so, I am now writing this confirmation letter to you to please cancel my credit card in order to bar its use any further. I would be highly grateful if you guide me regarding the issuance of a new card and the charges that it will incur. Thank you!
Jacob Zuma
[Senders Title] -Optional-
Download Details: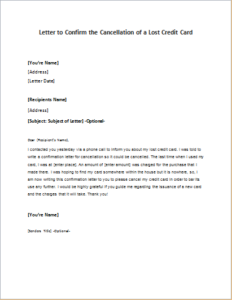 Letter to Confirm the Cancellation of a Lost Credit Card
Size: 25 KB Word .doc File 2003 & later
Download
Size: 183 KB PDF File
Download
[personal use only: Not for Resale & Distribution]