Letter to Criticize Employee(s) for Smoking
Businesses have to follow rules and regulations in order to reach success since it is only when the proper terms and values are followed that a usual business turns into an unusual and exceptionally professional icon.
Most companies follow smoke-free policies for their official environments. This policy is implemented differently in different workplaces as per the employer allows. At some places, smoking within office premises is totally banned. This is usually practiced among flourished and exceptionally professional organizations. Unlike this, some employers implement the smoke-free policy only for the work hours, which means, employers are allowed to smoke in break hours within the office. Nonetheless, either the policy is implemented fully or partially if employees are found breaking the policy, they should be notified in order to criticize them so that they could be brought within the boundaries. This letter can be used to criticize employees for smoking.
LETTER
 To [enter recipient],
I did not expect this violation after a clear notification about the implementation of smoke-free policy had been made. I am greatly disappointed as many of you are still found smoking within office premises that too in office hours. This shows that the notification has not been taken seriously. I want to inform you all that this kind of open violations of office rules is not tolerable. I see no reason for smoking in the office when those who smoke have already been told to use the assigned smoking spots outside the office. From now onwards, I hope to not see anybody smoking in the office. In the case of violation, expect a deduction in the salary as fine for violating the policy. Thank you!
Sincerely,
[Your Name]
[Senders Title] -Optional-
Download Details: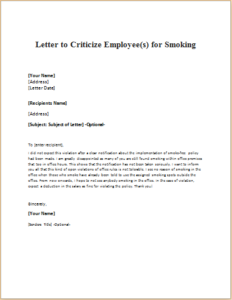 Letter to Criticize Employee(s) for Smoking
Size: 25 KB Word .doc File 2003 & later
Download
Size: 190 KB PDF File
Download
[personal use only: Not for Resale & Distribution]