Letter to Confirm a Transfer, Promotion or Relocation
Businesses inform employees via letters if a transfer or allocation is made or a promotion is granted to an employee. Since documents are written proofs, they make the process of confirmation and reconfirmation easy.
A letter of confirmation is sent to an employee to confirm him about the announcement or decision that he is, in most cases already aware of. The purpose of sending a confirmation letter is to confirm the decision as well as to provide a written proof of it. This letter, given below can be used to confirm a transfer or relocation of an employee.
Letter
Dear [enter recipient],
An announcement was made regarding the allocation and promotion of some employees. This is to confirm that you have been transferred to our new office in [enter place].
Your duties there will remain the same as they are here since you are only transferred to the new office and your promotion has not yet been made. Although you will be able to enjoy some entitlements that were not granted to you here, your salary will remain the same. As you are about to move to a new place and new work environment I would also like to advise you to maintain punctuality and professionalism at the new office as you will be a representative of our [Enter branch name] branch there. Your work hours at the new branch will start from [enter date]. Good luck!
Sincerely,
[Your Name]
Transfer of business
It is a matter of great satisfaction for us that you have been a regular customer of [Company Name] for the last three years continuously. We are thankful to you for this patronage. We take this opportunity to you informing you that [Company Name] has changed hands. The British owners have left the firm in US hands. But the working staff will continue as usual and the high standard of production and integrity will remain completely unaffected.
We trust you will continue to purchase our products as before.
Thanking you.
Reply to Above
Thank you for your circular letter. True, the firm has gone into US hands, but it must be for the better. I hope you will continue to maintain high business integrity witnessed under British ownership.
Download Details: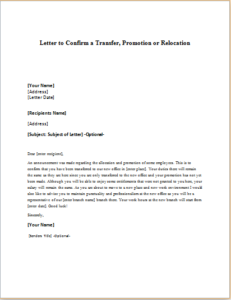 Letter to Confirm a Transfer, Promotion or Relocation

Size: 25 KB Word .doc File 2003 & later
Download
Size: 178 KB PDF File
Download
[personal use only: Not for Resale & Distribution]