Letter to Confirm a Transfer Promotion or Relocation
Businesses inform employees via letters if a transfer or allocation is made or a promotion is granted to an employee. Since documents are written proofs, they make the process of confirmation and reconfirmation easy.
A letter of confirmation is sent to an employee to confirm the announcement or decision that he is, in most cases already aware of. The purpose of sending a confirmation letter is to confirm the decision as well as to provide written proof of it. This letter, given below can be used to confirm a transfer or relocation of an employee.
Letter to confirm the promotion
Dear Mr. [name]
I [title] [name] from [department name] am writing to inform you about the result of the promotion board [year] held on [date]. You have been promoted to [designation] effective [date]. We would like to congratulate you on behalf of all the members of the board on this well-earned promotion.
Your performance over the last [number] years as [designation] was analyzed and it was decided that you have fulfilled your duties very efficiently and competently. The way you have led your team during the very difficult period of COVID and undertaken some truly challenging projects such as [name of project] while maintaining all the SOPs, is truly inspiring.
You not only completed these projects in time but the quality of work is a credit to you and your team. We acknowledge that the secret behind your team's synergy is your exceptional leadership. Your professionalism and mentorship are an asset to our office.
You are requested to relieve Mr. [name] latest by [date]. You would be succeeded by Ms. [name]. Please complete the handover before the given date and submit the Employee Performance Reports of your team for the period [date] to [date] before that.
In the end, we would like to congratulate you once again and wish you all the best in your new post. Looking forward to the same outstanding performance. Keep it up!
Yours sincerely,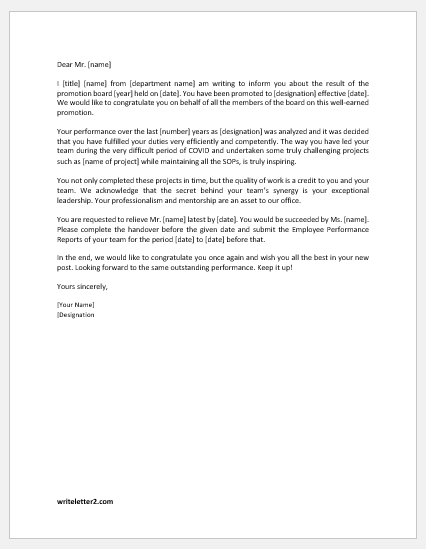 Letter to confirm the relocation
I [title] [name] from [department name] am writing to you to confirm the relocation of our warehouse currently located at [old address]. Due to a recent rise in the rent and deteriorating security conditions in this particular area, [Company Name] no longer finds this site appropriate for a viable business operation.
Despite repeated complaints to the area's police authorities, the incidents of petty street crime have become more and more frequent. Our staff no longer feels safe working in the area. Also, the suppliers keep complaining about the inconvenience and constant risk they feel in delivering to an area that they consider unsafe. Also, some suppliers find this location to be too far from the city so ease of access is an issue too.
Keeping in view safety issues, cost-effectiveness, and ease of accessibility for our suppliers, I am pleased to inform you that we will be relocating to [new address] and would be operating from there with effect from [date]. All the orders to be delivered after this date must be sent to the new address. Not only is the new warehouse in a safer location but we also kept the issue of inaccessibility in mind and ensured that that would not be a problem.
Looking forward to a better working experience together,
Yours sincerely,
Letter to confirm the transfer of job
I [title] [name] from [HR department] am writing to inform you that you have been transferred to [department name]. You would join your new job from [date]. Before this date, you are requested to submit any pending projects and reports you might have. Mr. [name] would be replacing you as [designation] with whom you are expected to complete the handover within 7 days. A completion report in this respect will be submitted to your Department Supervisor and Director of Human Resources by [date].
In your new department, you will work as a Senior Marketing Analyst. The job description will primarily involve monitoring market trends of the under-mentioned companies, analyzing them critically with a view to producing investment-oriented reports for the investors:-
[List of companies]
Further details would be shared with you upon joining. You are to report to Mr [name] on [date]. He would guide you regarding the job requirements and all the relevant details.
Letter of transfer of employee
Dear [enter recipient],
An announcement was made regarding the allocation and promotion of some employees. This is to confirm that you have been transferred to our new office in [enter place].
Your duties there will remain the same as they are here since you are only transferred to the new office and your promotion has not yet been made. Although you will be able to enjoy some entitlements that were not granted to you here, your salary will remain the same. As you are about to move to a new place and new work environment, I would also like to advise you to maintain punctuality and professionalism at the new office as you will be a representative of our [Enter branch name] branch there. Your work hours at the new branch will start from [enter date]. Good luck!
Sincerely,
[Your Name]