Letter Advising Subordinates to Resolve a Conflict or Issue
It is natural for conflicts to arise where people of different mindsets and ideas work together. In businesses, many times the employees do not have a consensus of ideas while they work together on a project, etc. In such a situation it is the responsibility of seniors to advise their subordinates on how to resolve their mutual conflicts.
Businesses require teamwork but a team working together is not enough. It should be made sure that the employees that are working together enjoy harmony with each other so that they may be able to give exceptionally good outputs since with a tense environment and mutual conflicts going on, employees cannot perform well at the workplace.
A letter of advice is written in order to give sincere and experienced advice to subordinates to resolve their conflicts.
Letter -1
Dear Mr./Ms. [name]
I [name] [title] from [department name] am writing to you about the argument you and Mr. [name] had on [date] during the [project name] meeting. While it's not wrong to have a difference of opinion but the way one communicates is what ultimately affects the outcome. You are both very valued employees and have been with us for a long time.
Your work and dedication to our company are known to all and we understand that both of you had the best interest of the company at heart but this kind of behavior is not tolerable. The company policy is very clear in this regard. You both head your respective teams and if your juniors see you behaving like this what impression would that make on them.
The decorum of the office must be maintained by all. We are arranging a meeting between you and Mr. [name] at [time] on [date] in the conference room. We expect both sides to apologize, work out the differences and finalize the project's next steps. In case, you fail to reach an agreement, new team leaders would be assigned to finish the [project name]. We hope that it would not come to that.
Looking forward to mature and responsible behavior from both sides.
Yours sincerely,
[Title]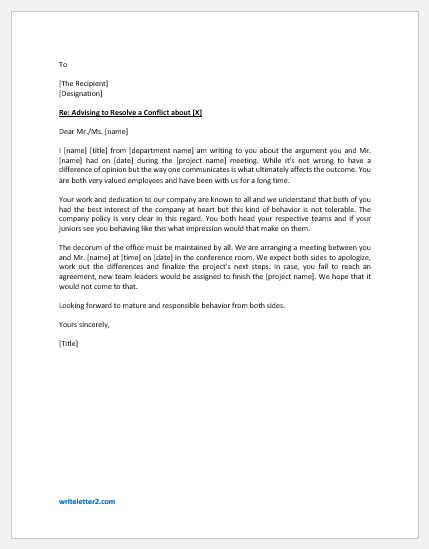 Size: 26 KB Word .doc File 2003 & later
Letter -2
Dear (Recipient's Name),
I am writing this letter regarding the conflict that is going on between you and Mr. [enter employee name] on the project of [enter project name]. Dear [enter recipient's name], things do not work this way in businesses. There are many times when most of us have a different point of view about a certain matter. In the case of disagreements, the better approach is to solve the matter through mutual discussions.
According to my knowledge, you did not have a single meeting with Mr. [enter employee name] after the conference room conflict on [enter project name]. If this will continue, how do you think the problem will be resolved? Both of you are seniors to many employees, eventually a role model for them so I want you to be good examples for them.
My advice to you is to schedule a meeting with Mr. [enter employee name] and discuss this conflict with him to reach a point of consensus so that the work on the project could be started at the earliest.
I hope you understand that our company wants its employees to be united and work in full harmony. Hope to see you both at one table. Thank you!
[Your Name]
[Senders Title] -Optional-