Letter to Criticize an Employee for the Breach of a Policy
Businesses can't run without rules and regulations so when borders of policies are crossed, it affects the whole business. Since employees are bound to keep themselves within the rules of the company, they should be notified if they breach policies. A company has to be strict here since it is not only the employee who will get the effect of it rather the whole company environment. Sometimes, the employees only have to be notified not punished. In a professional environment, being criticized is something serious. A letter to the employee in order to criticize him for the breach of a policy should thus be written in a serious, formal and a little warning tone. The advantage of practicing the use of such letters when required keeps the employees well within the boundaries of the company's policies.
LETTER
Dear (Recipient's Name),
I hope that you were provided with the employee handbook at the time you joined the company and you must also have signed the statement of understanding with the company before joining so I have no doubt that you are well aware of the company's policies and the ways our employees are supposed to behave. I am unable to understand why then are you continuously breaching the company's policy of [enter policy]. You are not supposed to do this. This is affecting us and the work environment so please abstain from such behaviors as I don't find myself tolerant enough to allow you this. I hope to not write such a letter to you again in future.
Follow the company's policies. Thank you!
[Your Name]
[Senders Title] -Optional-
Download Details: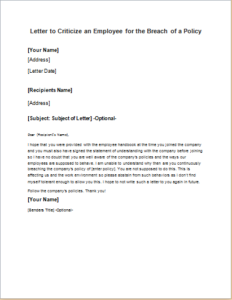 Letter to Criticize an Employee for the Breach of a Policy
Size: 26 KB Word .doc File 2003 & later
Download
Size: 178 KB PDF File
Download
[personal use only: Not for Resale & Distribution]