Letter Announcing the Implementation of Smoke-Free Policy
Letter -1
As you all know that our company, Crescent and Co., is known not only for our excellent services but also for scenic beauty and natural landscapes. We strive to maintain the beautiful interior of our premises and for the past many years, we have preserved its beauty with flowers and greenery. We wish to provide an environment to our employees which are healthy and conducive for work.
Keeping this in mind, we have made some changes in our company policies to ensure cleaner office premises. These policies shall include a ban on smoking within the facility premises. The smoking ban shall be imposed effect from 1st November 20XX following which, no employee will be allowed to smoke inside the office buildings.
We have designated some areas outside the building which shall be indicated to you by your team leaders. The employees can smoke in the designated areas only during smoke breaks which will be a maximum of two times during a day. The smoke breaks may last for a period of a maximum of twenty minutes.
We apologize for the inconvenience caused by this policy to the employees who smoke. We want you to know that this was done with the best interests of our company and employees in mind. We hope that you all will abide by the rules and not violate the new company policy.
Please don't hesitate to reach out to us in case of any further questions. Thank you for your cooperation.
Regards,
Office management.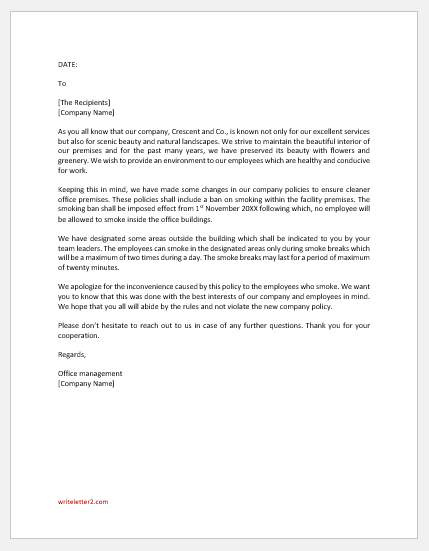 Size: 16 KB Word .doc File 2003 & later
Letter -2
Dear employees,
This is to inform you that a smoke-free policy shall be implemented on the premises of our Main office building with effect from 2nd November 20XX. We have implemented this policy considering the health conditions of many of our staff and workers who have recently recovered from Covid -19.
Many of our employees reported to have developed breathing difficulties due to the infection and are still in the recovering phase. The smoke and dust pollution in the premises causes them difficulty in breathing which in turn hinders their daily work operations.
To provide a healthy and safe environment for all our workers, especially considering their medical conditions, we have decided to impose a smoke ban on the office premises with effect from 2nd November.
The employees who smoke may smoke outside the office building at a distance of at least 30 meters from the main entrance. We are working on building smoking cafes around the office building where our employees may smoke during breaks if they want to. A fine of $50 shall be imposed on any employee caught smoking inside the office building.
We apologize for any inconvenience caused by this policy to the workers who smoke. Rest assured; our policies are always in the best interest of our employees. We hope that you will regard the new policies and take care of yourself and others around you. Thank you for your cooperation in this matter.
Regards,
Office management.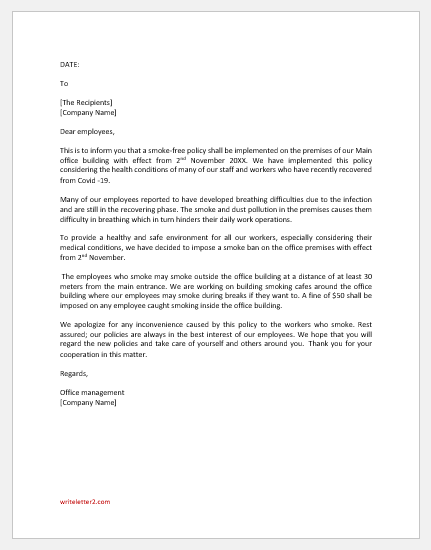 Size: 16 KB Word .doc File 2003 & later
In order to run businesses successfully, there have to be rules and regulations that a business follows. The more a business environment is controlled by implementing policies, the more it creates a professional environment for the employees and the better it benefits the business.
Though the policies of companies are defined, there are some amendments and improvements that are made in the policies time after time. Sometimes, the policy that had already been made but was never implemented is announced to the employees for full implementation. This letter can be used to announce the implementation of a smoke-free policy to the employees.
Letter -3
Dear (Recipient's Name),
We are continuously moving from better to best in the business sphere which is a great achievement for our company. This progress has also increased our responsibilities. We now have to focus more on our work as well as on our work environment. For this, we are beginning to implement the company's policies more seriously.
All employees are notified that our smoke-free policy will take effect from [enter date]. From [enter implementation date], no employee will be allowed to smoke in the office. Please note that this rule is also for break hours.
Those employees who are in a habit to smoke can go outside the office premises at the specified places for smoking but no smoking within the office. In case anyone is seen smoking in the office, s/he will be charged for doing so.
You are requested to contribute to making our workplace a better and more professional business place. Thank you!
[Your Name]
[Senders Title] -Optional-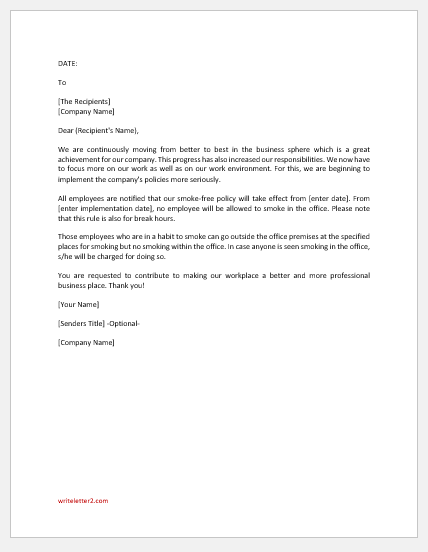 Size: 16 KB Word .doc File 2003 & later