Approval Letter for Extended Leave Request
Work leaves are seldom appreciated. A good employee is thought to be the one who takes the least leaves. Pardon me if I am generalizing things but I guess I am right. Since employees are humans, they have needs, emergencies to encounter, events to attend and celebrations to make, they want to go off and this is why nonetheless how hefty the workload of a business is, work leaves are granted to employees.
Usually, a company declares in his work policies the number of maximum work leaves that it would allow to an employee.
Sometimes, when an employee is on his leave, there come situations that make the ground for the extension of a leave. It could be an emergency, the death of a loved one, climate issues barring the traveling etc. In such a situation one should request for an extension in the leave.
It is upon the employer to respond to the leave extension application after analyzing the situation that a person is in and grant the leave if he finds that the employee is right in asking for it. The tone of an extended leave approval letter should remain mild as in most cases, the letter is written in an unexpected situation and there's no use of being harsh to an employee for circumstances beyond his control.
LETTER -1
Dear (Recipient's Name),
I am writing this letter to you with regard to your application for an extension of vacation leave that I received on [enter date]. The reason for the extension that you mentioned in the letter was [enter reason]. I found your reason convincing since this situation was unexpected for you.
Therefore, your leave has been extended by [enter no. days]. You're expected to be back to work on [enter date].
Hope to see you in office on [enter date]. Take care!
[Your Name]
[Senders Title] -Optional-
LETTER -2
Dear Ms./Mr. [Name Here], It is to inform you that your leave extension of [X] days from [DATE] to [DATE] has been approved by the management due to the circumstances you are facing. You are requested to sign this letter for approving the fact that you will not be requesting any short leaves for 3 months after this extended leave and you will be ordained to inform your supervisor for any financial or physical assistance by the company in these days.
Kindly provide us with your contact details if changed meanwhile and do provide the company with your performance details of the current month.
Kindly, be on time after the leave extension and keep in contact with your supervisor for assistance. Thank you!
Download Details: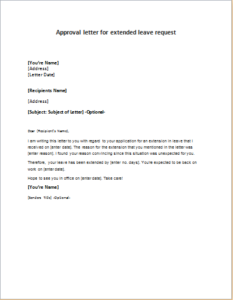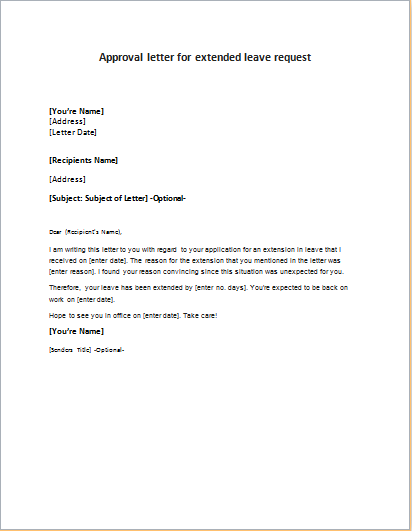 Approval Letter for Extended Leave Request

Size: 25 KB Word .doc File 2003 & later
Download
Size: 184 KB PDF File
Download
[personal use only: Not for Resale & Distribution]
---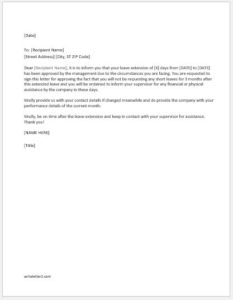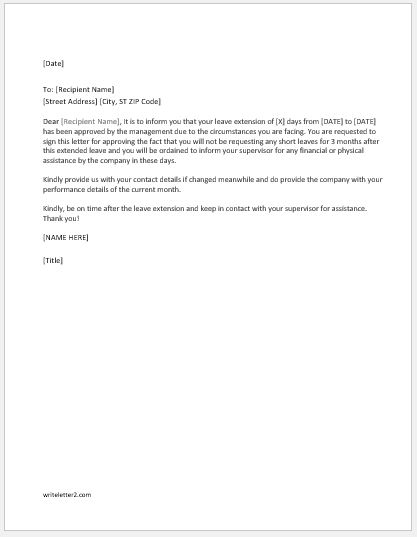 Size: 22 KB Word .doc File 2003 & later
Download