Thank You Letter to Teacher
Having a good teacher is a great blessing of God indeed. A good teacher is kind, passionate, knowledgeable, and loves the students. They have the ability to face every kind of student. Teaching a child and transforming him into a presentable personality for society is the biggest favor of the teacher.
The parents of the child should be thankful to have such kind of teacher. Writing a letter to say thank you to the teacher can be the best way to show feelings of gratefulness. You can write very warm words in the letter to let them know how thankful you are to them.
You can also use a number of sweet words to appreciate the teacher. You can also give a greeting card to the teacher when you meet them in the parents' teacher meeting, however, writing the thank you letter is the best option.
Writing a thank you letter encourages the teacher a lot to make him/her work even harder to give the education to your child which he deserves. The tone of the letter should be formal and it should express gratitude towards their work hard.
The language of the letter should be simple and easy to understand. You can add a subject to the letter to make it more readable. You can add a background of a child and can also tell his achievement but it is not necessary if you want to keep the letter brief, you can omit this. End the letter with a positive note and check it for any kind of mistake.
1-
I [name] am [name]'s mother who studies in class [number]. I am writing this letter to thank you and appreciate all the effort you have put in. My son is a shy and introverted child and when we shifted here due to my husband's posting he was really upset as all his friends were left behind and he was dreading going to a new school as he is not comfortable around strangers.
We were really worried about him. We talked to the principal at the time of admission about this issue and she assured us that the class teacher is a very experienced and senior teacher and she will know how to handle him.
I am very glad to report that my son has settled in and made new friends in remarkably less time. He is very excited to go to school every day. After coming back he tells us about his day and does his homework happily. He has started putting in more effort both in studies and in extracurricular projects. Everyone in our family and friends has noticed this change in him.
We are truly grateful to you. They say that 'it takes a big heart to teach a little mind'. Your heart surely must be very big for caring for a child so much and helping him feel at home in a new place. We have all felt your positive influence on our son and for that, we thank you with all our hearts.
2-
I am the mother of [name] grade [number]. I am writing to appreciate you for everything that you have done for my daughter.
It was my daughter's childhood dream to become a doctor and serve humanity like her father. She has always been a very hard-working and dedicated student and that reflects in her grades too. Trouble began when last year I was diagnosed with cancer. Although I won my battle against this deadly disease all the money that we had saved for my daughter's college was used up in my treatment.
My daughter was heartbroken and shaken. We were surprised to see the changes in our otherwise happy active child. She had completely withdrawn herself from everything she previously enjoyed be it sports or her favorite food. Her silence broke our hearts but there was not much we could do to give her hope.
It was at this point that you stepped in and changed our lives forever. Your help in finding her a full scholarship has been a God-sent miracle for us. We had lost all hope but due to your guidance and the fact that you went out of your way to help and counsel her, my daughter is working once again with all her heart to achieve her life-long goal.
I do not have the words to show my gratitude. Let me just say that we are forever in your debt. God bless teachers like you who care for others' children like their own.
3-
Dear [Recipient's Name],
Dear Miss Katherine, thank you for being an excellent teacher of my child. Teachers like you are rare to find. We really appreciate the time and patience which you show while teaching and we are also grateful for making your subject very interesting. Stay blessed. Have a great day!
[Your Name]
[Senders Title] -Optional-
Download Details: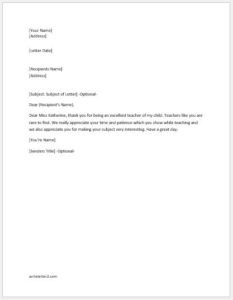 Size: 29 KB
Mobile Version: Polaris Office & Google Docs
Size: 17 KB File