Letter Authorizing Medical Treatment for Father
Authorization letters are written in order to give authority to a trusted doctor who would treat the concerned patient in the absence of that specific patient's caretaker. It is an important piece of paper that gives the total responsibility of the patient to the authorized doctor. It includes the signatures of both the assigned doctor and the caretaker. In this way, all of the authority of the patient is given to the doctor about the whole process of treatment and medicines in use. The following letter was written in this regard.
1-
I, Mark Tester, am the son of Riley Tester who is seventy years old dementia patient. My father, Riley, suffers from Type II Diabetes and has been on insulin treatment for the past four years, and needs an insulin injection every day in the evening. Usually, he injects the insulin himself but sometimes he needs help sometimes as his hands shivers. In addition, he forgets to take his medications sometimes due to his dementia, so he needs help with that too.
He is currently on certain medications, a list of which is attached with this letter and needs to take it three times a day at noon, evening, and night. I am writing this letter to give you an authorization for my father, Riley Testers, medical treatment for the period of three weeks; from 1st January 20XX till 21st January 20XX.
For these three weeks' time, I shall be away for a business meeting and won't be available to make medical decisions for him. I have attached a list of his prescriptions and doctor's schedule with this letter, please go through it very carefully and let me know if you have any questions.
I request you to please follow his medication schedule and take him for scheduled appointments on the relevant days. You may contact me on [X] in case there is an emergency.
Regards,
Mark tester.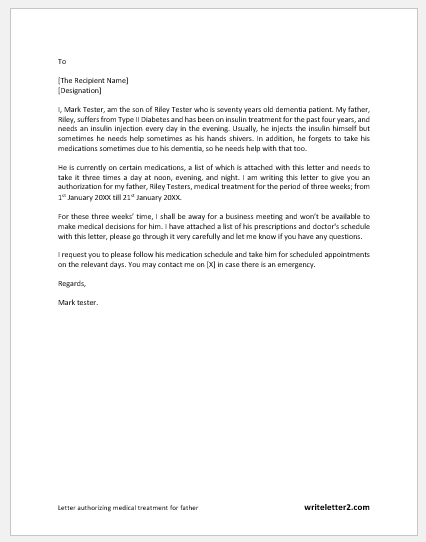 Size: 12 KB Word .doc File 2003 & later
2-
Tom Hanks,
I am writing to give you an authorization for the medical treatment of my father, David Thompson. I will be traveling to London on a business trip from 11th January till 30th January 20XX. During this period, I want you to manage his medical treatment which shall include doctors' appointments and his medication schedule.
My father has a blocked valve in his heart and also gets bouts of very high blood pressure at times. He needs immediate medical intervention in case he complains of dizziness as it is a clear indication of high blood pressure.
I usually take care of him and take him for regular doctors' checkups which are scheduled in a biweekly manner. Due to this business trip, however, I won't be able to take care of him and therefore authorize you to do so.
Please call me at 8029- 893938 in case there is an emergency, or you notice any unusual condition. In the event that I cannot be reached, I give you the authorization to take any necessary precautions or medical treatment for the well-being and good health of my father.
Generally, he remembers to take his medications by himself and would also drive himself to the doctor for his weekly appointments. I just request you to keep an eye on him and authorize whichever intervention his doctors may deem necessary for this period of three weeks that I shall be away.
Please keep updating me periodically regarding his health and make sure he eats on time too. Thank you for your cooperation and effort. I truly appreciate it.
Regards,
Mark Thompson.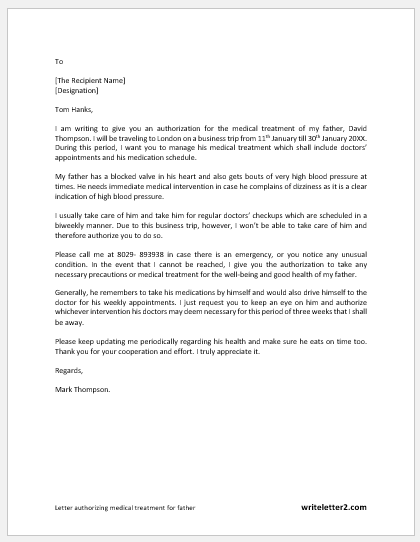 Size: 12 KB Word .doc File 2003 & later
3-
Dear [Recipient's name],
This letter has been written in reference to the assigned authorization of my father's treatment to the doctor [doctor's name] from July 17 to August 15, 20XX during my stay abroad. This letter gives the entire authority of the medical treatments and medicine usage on my father to this doctor for the above-mentioned period.
My father has chronic heart disease with mild hypertension and thus he needs to be examined with full care and in short intervals of time. Sometimes, he needs an attendant all day by his side to keep a check over his body normal. This is a huge responsibility for the doctor to whom I have authorized my father's care too and I hope that they will take good care of him.
Thank you very much.