Letter to Compliment Employee's Performance
One of the things that humans crave is appreciation and to be complemented. In day-to-day business work, not all employees perform the same. Every business has different kinds of employees and while some perform on average, there are others that work exceptionally. It is, therefore, important to differentiate the hard workers from average workers by complimenting their performance.
A compliment letter to an employee for his performance is written for the same purpose. In a compliment letter, the employee should be complimented generously as it is a known fact that compliment letters help improve the performance of employees to even better and encourage other employees to work hard. Therefore, all mature bosses never forget to compliment their employees for their hard work. The letters given below can be used to appreciate an employee for his performance.
Letter -1
I [Title][name] am writing to you about the events that took place on [date] when your team leader, Mr. [name] was taken ill on the Day of the audit team's arrival. You not only stepped in promptly to cover for him but the way you conducted yourself and handled your responsibilities is admirable. Your dedication and loyalty are much appreciated.
An organization grows only when the employees work together as one and own it. Your professionalism and cooperative attitude has made you a favorite among your colleagues. A good team can achieve much more than individuals working on their own which is why we highly encourage and admire team spirit in our [organization]. Keep up the good work!
Yours sincerely,
2.
I [Title] [name] from [department name] am writing to you to congratulate you on your performance in the Basic Training course. This is the first course which every new employee has to take. The skills you have learned in this course, if properly applied would help you throughout your career.
You have stood first in a group of [number] new recruits. Your performance both in the written and demonstrative tests is commendable. All your instructors have very good things to say about you. You have also been presented as a team player which is something we really value in this organization. Based on your score in this training, we have decided to assign you to our [name] department, this assignment is both a reward and a responsibility. We are sure that you would continue to impress us with your hard work and dedication and prove yourself to be worthy of the trust put in you.
With regards,
Yours sincerely,
Letter -3
Dear (Recipient's Name),
Congratulations! I am glad to announce to you that as the [enter employee's title] of the company, you're performing brilliantly. Your performance has remained exceptional throughout the [year/month]. Your hard work and devotion have brought many successes to the company and we are continuously progressing to maintain a better place in the business world.
I admire your capabilities and your exceptional performance. For all this devotion, you deserve a bonus this month. Thumbs up to you for becoming an exemplary employee for the rest of the crew!
Please keep up the good work. Thank you!
[Your Name]
[Senders Title] -Optional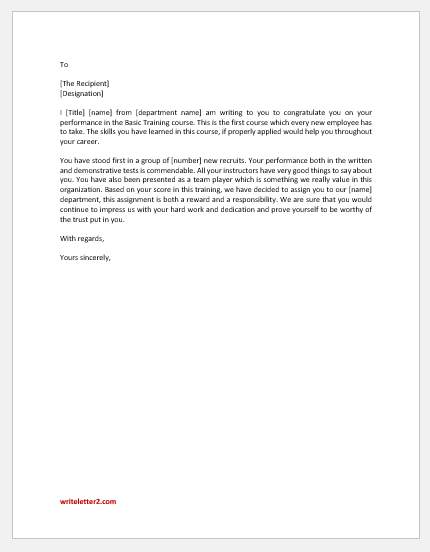 Size: 15 KB Word .doc File 2003 & later