Letter to Respond to a Complaint about a Colleague's Behavior
Employees of different mindsets and natures work under one room in the business environment. It is then natural for conflicts and issues to arise. Also, the attitudes of certain employee/employees can affect others. In such a case, there is no better choice but to reach the employer in private to report about the issue one is facing. Usually, junior employees do not dare to complain about their colleagues especially if they are seniors since there are possibilities that their experience in using clever tactics will win them the suit and the complainer will be left in disgust. Also, because employers do not entertain complaints from junior members with much attention and interest, they tend to remain quiet.
Nonetheless, it is the responsibility of the employer to make sure that all the employees are working with satisfaction and enjoying full rights. For this, it is necessary that the complaints of employees are responded in time and properly no matter they are juniors or seniors. This sample letter can be used to respond to an employee's complaint about a colleague's behavior.
LETTER
Dear [recipient's name],
First of all, I would like to appreciate your courage for reaching me directly in order to resolve your problem. I always suggest employees bring their issues directly to my office instead of stirring the hodgepodge of rumors and misunderstandings at the workplace. You have made a good choice by doing so.
Dear [enter employee name], I have read your complaint twice. I believe you are right in your say. Mr. [enter employee name] should not insult you for the mistakes that you do since you are a new employee and also because he has no right to do so. Even the company suggests that employees be informed of their mistakes in private and in a proper manner. I received the same complaint from some other employees earlier this year, therefore, I now feel this is the time to take action. I will surely talk to Mr. [enter colleague name] about this and I hope that you will not be treated this way in future. Thank you for bringing the matter to my knowledge.
Sincerely,
[Your Name]
[Senders Title] -Optional-
Download Details: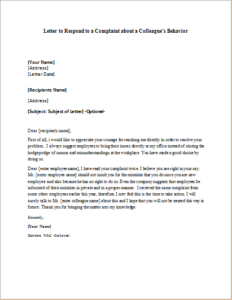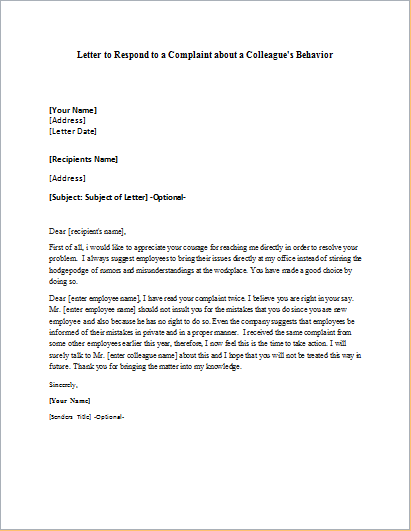 Letter to Respond to a Complaint about a Colleague's Behavior
Size: 25 KB Word .doc File 2003 & later
Download
Size: 178 KB PDF File
Download
[personal use only: Not for Resale & Distribution]