Letter to Criticize an Employee for a Decline in Performance
Employees need to be notified, appreciated and criticized for their performance. The feedback from the employers helps employees in keeping their performance satisfactory and as per the business's requirements. Employees may sometimes perform poor due to work stress or personal issues but when the performance continuously goes poor, this is the time to notify the employee that he should get conscious of his output.
This letter can be written to an employee for performing poorly at work.
LETTER
Dear [recipient's name],
It has been [enter period] that you are working at [enter company]. Your performance has remained satisfactory throughout this period. I remember having written a couple of appreciation letters to you as well. However, I am greatly disappointed with your performance that you are showing since the past [enter period]. I am unable to understand the reason of it. You know very well that in businesses one seeks to elevate his graph and should get conscious if it declines. I was expecting an improvement in your performance since I first observed the decline in it because I had assumed that it could possibly be due to a stress that you might be facing. To my utter disappointment, I am still observing a decline in your performance.
Mr. [enter name], if there is something that is bothering you, please discuss it with me so that a solution could be found. I want you to get conscious for your performance as I definitely don't wish to send you another letter of the same type. Thank you!
Sincerely,
[Your Name]
[Senders Title] -Optional
Download Details: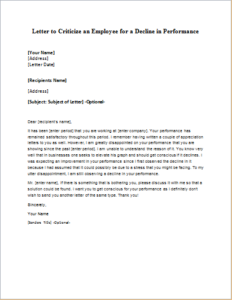 Letter to Criticize an Employee for a Decline in Performance
Size: 25 KB Word .doc File 2003 & later
Download
Size: 266 KB PDF File
Download
[personal use only: Not for Resale & Distribution]