Encouragement Letter to Employees to Increase Sales
The purpose of this letter is to encourage an increase in company sales by the joint effort of all employees. As you all are aware the sales at our company have been at an all-time low for the past few months.
The COVID pandemic has severely affected our sales as a movement has been limited due to lockdown and restrictions. The company has been suffering financial losses and it has also affected the wages of our employees.
We want to encourage you all to come up with strategies to increase sales. Last month we tried the 'buy one get one free offer for one of our products. This month we have planned a fifty percent discount coupon for the third item on the purchase of two items at full price.
We encourage all employees to introduce our offers to customers through social media and in-person advertisements. We also want you all to come up with any new strategies that you think might be useful for an increase in sales.
We will offer the 'Employee of the month' title to any employee who successfully generates the highest sales of the month. An employee of the month will also be awarded a financial reward for his performance.
We hope to see a better performance this month by our employees. Please don't hesitate to reach out to us in case of any queries.
Regards
Office management.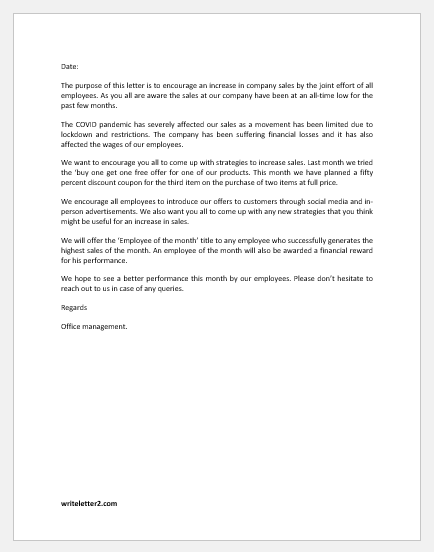 Size: 13 KB Word .doc File 2003 & later
#2
Dear Mr. Jonathan Reese,
Good day. As you know, our company has been experiencing a decrease in sales lately. We have observed a lot of competition from other companies who are offering similar services as our company. We have also noticed that many companies have copied our promotions and strategies to increase their sales and it has worked in their favor.
We have had our personnel working on bringing our sales up and coming up with new strategies. The company wants to keep the new strategies private and only share with the relevant team as to avoid our competitors from copying our work again. As the senior sales manager, we want you to also come up with new plans and campaigns which will help increase our sales.
Previously we had tried social media channels to advertise our products and services which helped with the sales a lot. This time we want you to help come up with more creative ways whereby we can attract more potential clients.
As an example, have a look at one of our competitor companies, Moorland, that linked their products with the cricket craze that has been going on recently. This caught the eye of many cricket lovers which then helped their company gain more exposure. We want you to come up with something similar too where we can use a fad to promote our products.
Please reach out to us with any ideas you have regarding this. We will have a meeting tomorrow at 10 am to discuss all this with the sales department.
Please communicate this to the team and make relevant arrangements. Please reach out to us in case of any queries.
Regards,
Office management.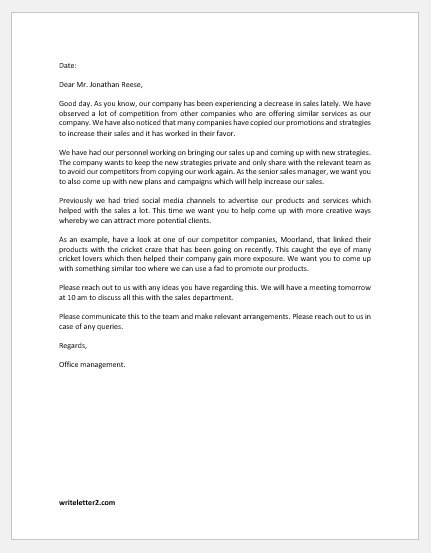 Size: 13 KB Word .doc File 2003 & later
An employer is enough fortunate if he finds good employees since one having passionate and hardworking employees is most expected to leave his competitors behind. One finds such employees are his luck but one continues to reap from the efficiency of his workers is his strategies.
Employees work but they want their work to be appreciated and recognized too. There also come times when they want to be encouraged and uplifted. An employer is not only supposed to give the order to his workers. He also has to encourage his employees time after time to reach certain goals and improve the company's progress. It is, therefore, important to write encouraging letters to employees time after time so that the goddess of good fortune keeps on favoring you. It's a good employer's strategy. Yeah!
This letter can be used to encourage an employee to increase sales.
Letter -3
Dear (Recipient's Name),
Congratulations! I am very glad to say that [EMPLOYEES NAME] the [enter employee's title] of the company doing very well. The sales of our company have increased by [X]%. We have already crossed our expected goal and for this, I appreciate your effort but since you know in businesses, there's no limit when it comes to progress.
I believe that we can further increase our sales as we are still left with a quarter of the month. I encourage you to keep giving your best and increase the sales. Our next goal is to make sales of [enter amount] within this month.
I'm sure you can do this. Great job!