Letter from Client to Cancel Insurance Policy
There are several insurance companies that are providing different kinds of insurance policies that include life insurance, car insurance, property insurance etc. All insurance companies have their own rules and regulations. Once a person chooses an insurance policy, he is bound to keep himself within the rules. Though everyone chooses to take an insurance policy with his own choice, people sometimes want to cancel their insurance policy once they take it. There could be many reasons. A company with better services might have been found, the money to submit for insurance bills might not have been sufficient or a person might be considering insurance a burden. In all such cases, one has the right as well as the choice to cancel his insurance any time. For this purpose, a letter to the insurance company is written in order to request it for the cancellation of the insurance.
Letter for cancellation should be written with the proper business format. It is not necessary but recommended to inform the company why you want this cancellation or otherwise nonetheless, they will try to ask you since they are running an insurance company and insurance companies are famous for convincing clients. Nonetheless, you can write this letter in order to request for cancellation.
Letter to Cancel Insurance Policy
Sayre Jus coz
[Address]
[Letter Date]
[Recipients Name]
[Address]
[Subject: Subject of Letter] -Optional-
Dear [Recipient's Name],
I am writing this letter to you regarding my insurance. I took an insurance policy from your company on [enter date]. My policy no. is [enter no.]. I am now requesting you to cancel my insurance. It will be encouraged if you please send me the written confirmation once my insurance is canceled. I hope that there will be no further charges made to my bank account since I am canceling my insurance policy.
I know that it will take time though I will certainly appreciate if the action is taken promptly. Many thanks!
Sayre Jus coz
[Senders Title] -Optional-
Download Details: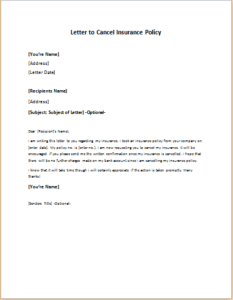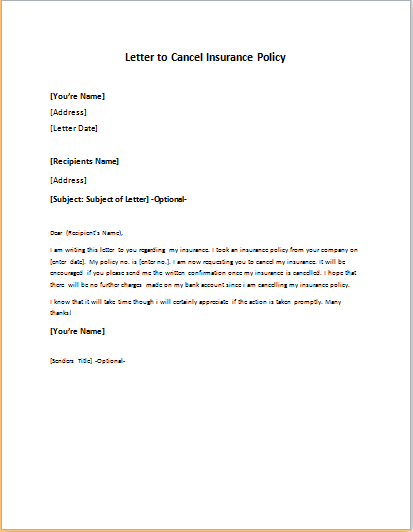 Letter from Client to Cancel Insurance Policy
Size: 25 KB Word .doc File 2003 & later
Download
Size: 200 KB PDF File
Download
[personal use only: Not for Resale & Distribution]