Letter of Termination of an Employee
In order to run a successful business, there are many factors that count. Potential and responsible employees are one major factor. Without them, businesses cannot run. It is, therefore, important that the progress of employees be observed and action should be taken for the irresponsible and incompetent employees.
A letter of termination is one such action. This letter is written to clean sweep non-serious and unsuitable employees. Not all employees are non-serious. Some people are hardworking and responsible but they are just not suitable for your business. Letter of termination announces that the term of an employee to work with you ends.
A termination letter is a professional letter and no matter how serious the reason of termination might be, it is recommended to keep the tone mild. Because this letter is written after discussing the issues with the employee, a termination letter does not contain details.
In the case when the employee is honest and responsible but just not suitable for you, a reference letter should also be granted to him with termination so that he may find a better and suitable place for him in the business sphere.
This letter can be written in order to announce the termination to an employee.
Letter of Termination
#1
After having a long discussion with you regarding your work, I have finally decided to write this letter to you. You're not suitable for our business. I know you're a hardworking person and I wholeheartedly accept it. Since we need relevant potentials for the business which you lack I have to send you this letter of termination.
I am also enclosing a reference letter for you because I believe you can do extraordinary if you find the right place.
Wish you good luck for future.
Jack Hudson
[Senders Title] -Optional-
#2
Your employment with the [Company Name] has been terminated. The reason for the termination is company policy violations.
It is mentioned in the employment contract that an employee cannot work for other companies during the 8-hour duty interval. It has been reported by your [SUPERVISOR] that you work for [COMPANY NAME] during your stay at the office. It is not acceptable at all.
You can get the proof of this violation from the HR office.
All the benefits and monetary adjustments have been made in your final paycheck.
Download Details: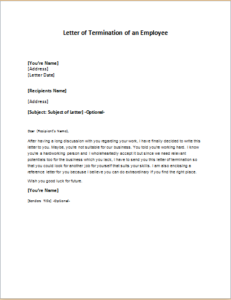 Letter of Termination of an Employee
Size: 25 KB Word .doc File 2003 & later
Download
Size: 191 KB PDF File
Download
[personal use only: Not for Resale & Distribution]